Okay, they blew the money shot but, on reflection, the botched lighting of the Olympic flame actually added to Vancouver's opening ceremony.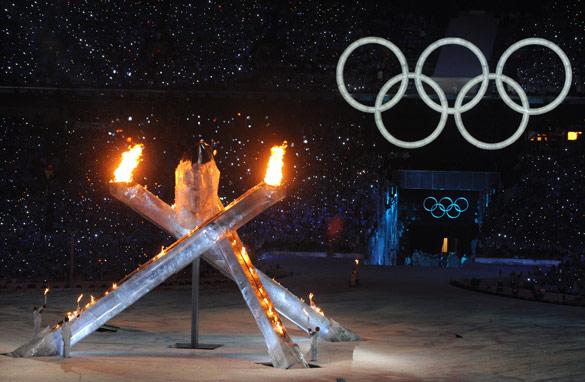 The Olympic flame is lit at the conclusion of the opening ceremony for the Winter Games in Vancouver .
It was hard for organizers to get the tone right following the death of luger Nodar Kumaritashvili. No matter how tragic, it would have been wrong if the commemorations to him had featured too prominently.
The young Georgian died doing a dangerous sport, but one that he had trained for and knew the risks of. Very different, for example, to the terrorist attack on Togo's football team at the recent Africa Cup of Nations.
There was a fitting tribute from Kumaritashvili's team-mates, who wore black armbands and scarves to go with the grim expression on their faces. They were given a standing ovation in BC Place and there was even a smattering of applause where I was watching - a giant marquee, mostly filled with Canadians waiting to cheer their nation's competitors.
The fans had heard about the accident and, despite being well lubricated with alcohol, a hush descended as they watched the minute's silence at Friday's opening ceremony.
Kumaritashvili was also mentioned in the official speeches, but the rest of the evening was filled with the usual pre-Olympic theatrics.
Having to follow Beijing's cinematic-style epic opening ceremony for the 2008 Summer Olympics was always going to be a tough challenge for Vancouver's organizers, but in my opinion they rose to it.
I'll admit I can be a bit sentimental at times, but when VANOC boss John Furlong said, "We invite people everywhere to share and experience, even if just for a few moments, what it feels like to be a proud Canadian," - I did.
And, as a Brit working for an American company, I have to confess it tickled me that the second biggest cheer of the night came when poet Shane Koyczan declared "Yes, we say zed not zee."
Then, as the patriotic fervour was at its height, one of the pillars supporting the Olympic cauldron failed to rise. How embarrassing. The final four torch-bearers had ear pieces and knew what was going on, but they still didn't look comfortable.
But you know what? I think it was great. Unlike China a year and a half ago, Canada shouldn't be trying to serve up another robotic, clinical Games. This is a diverse country, vast, beautiful and imperfect - and that's cause for celebration.