So, after months of anticipation, here we are… in Vancouver on the cusp of another Olympic Games. Well, another one for me after losing my Olympic "virginity" reporting from Beijing in 2008.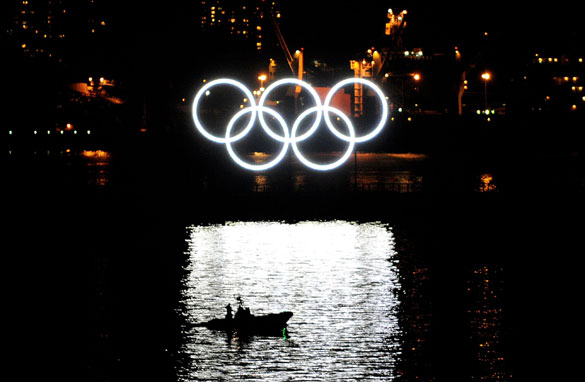 Olympic rings light the Vancouver harbour while fear mounts that increased security will strangle the spirit of the games.
Already, I'm running down a mental checklist, comparing the two cities. Difficult because they are in two, very different countries and the Winter and Summer Games are very different events.
For a start, only around 80 nations will compete here in Vancouver, compared to 204 in Beijing. No surprise then that flying in to Canada was a lot quieter than arriving in China a year and a half ago.
I landed only slightly later than I'd taken off from London Heathrow – the eight hour time difference almost cancelling out the nine and a half hour flight. It was a lively journey, with plenty of Olympic-bound passengers crammed alongside me in economy.
Many were wearing team colours – Italy, Norway and Russia, to name a few – although it was hard to tell which were competitors and which were coaches, support staff or simply fans! Most were wandering around the cabin, excitedly talking to each other about what to expect.
At Vancouver airport, there was a separate passport control for those of us with official Olympic accreditation. I didn't have to queue very long. In contrast, Beijing airport had been absolutely manic. The company I worked for then provided a private driver and I was glad of it.
Here in Vancouver, I used a media shuttle bus, laid on by the organisers. The bus driver wasn't local and I ended up guiding him using a map application on my mobile phone. This is my first time in the city too!
At Beijing '08, the airport staff had been so amazed to see an official Olympic accreditation that they insisted on having their picture taken with it. This time, there was less wonderment but just as much friendliness.
Although I believe the Chinese laid on a good Olympic Games eighteen months ago, it was sad to see what happened on the night of the opening ceremony. Thousands of people travelled to the capital even though they had no tickets, or much money.
They were so proud that their country was hosting such a prestigious world event and yet police blocked their path and forced them down side streets with no view of the Bird's Nest stadium
Vancouver has spent far more on security than it originally planned. I only hope this isn't a sign that they will try to overly orchestrate these Olympics too. That can suffocate the very spirit which makes the games so unique.