Move over Tiger Woods, there's a new soap-opera in town. Tales of Tiger having been replaced by Tales of Terry after the captain of the England football team committed the alleged "transgression" (Tiger's word not mine) of cheating on his wife.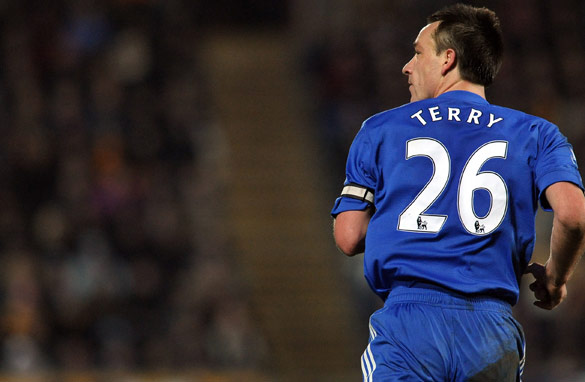 Terry has tried to weather the storm by turning out for his club side Chelsea.
Granted, the level of transgression is much lower than Tiger's as Terry is only accused of cheating with one woman, not a whole posse.
Of course, in the greater scheme of things one extra-marital affair by a high powered businessman, which is essentially what Terry is, would be no big deal.
But the fact that the woman in question is the ex-girlfriend of his sometime England and former Chelsea team-mate – Wayne Bridge, makes the story a little more salacious, and therefore interesting to the media.
Terry could pay a high price for his alleged error of judgment (Tiger-speak again), as he could lose the England captaincy just a few months before he was due to receive the ultimate honor of leading his country at the FIFA World Cup.
Since he's decided not to fall on his sword himself by resigning the captaincy, his fate as England skipper now lies in the hands of England's Italian manager, Fabio Capello, who's been passed the buck by the English Football Association which insists the decision on Terry will be his and his alone.
Should that be the case? No, because Capello's brief is not to be the moral conscience of a nation but to put out the best football team he can in order for England to win the World Cup for the first time since 1966.
What's more, while he outlined a whole host of disciplinary requirements when he took the job – no wives or agents in the team hotel; no tardiness for meals; no room service; no public use of mobile phones; no video games; no lolling about in flip-flops and shorts, - they were all designed to facilitate a better performance ON the pitch, making no mention of the players' conduct when OFF-duty away from the limelight.
So I disagree that it's Capello's responsibility to make the call, not least of all because, when judged in purely football terms, Terry's ability and leadership qualities make him a natural captain and inspiration to the England team, which is all Capello should care about.
Besides, if not Terry as captain, then who? Rio Ferdinand has a chronic back problem and may not be fit to play throughout the World Cup; Ashley Cole, one of the few certain starters like Terry, is not far removed from a run in with the police, so he's blotted his moral copybook.
Steven Gerrard could do the job, but, given his erratic injury prone season with Liverpool, would he welcome the added responsibility? I wouldn't want to put more baggage on Wayne Rooney, because he's got enough already as England's main hope for success; and then there's David Beckham, who knows what it takes to be skipper, but won't be a regular starter if he goes to South Africa at all. No, for the good of the team.
Terry's clearly the man, and I wouldn't want Capello to see it any other way.
On the other hand, if the English F.A is tacitly calling the shots, then I think Terry's days of leading the team are over, because they have to consider the wider implications of being England captain, which still embodies an anachronistic image of the fine, upstanding, paragon of virtue steeped in the Corinthian spirit.
John Terry is clearly not that. Nor has he ever professed to be, as he was handed the armband as a reformed bad boy, not a career goody two-shoes. But if his relapse makes the men in gray see red, it would come as no surprise to anyone if he was ousted.
Personally, I think J.T has been reckless; stupid, dishonest to his partner; and disloyal to his friend. But, unlike Tiger, who was sold as a role model, I don't think Terry ever portrayed himself as anything more than a committed footballer who leads the team by example. And that's all I want from an England captain. I'll mentor my kids myself.