The announcement by the Confederation of African Football (CAF) that Togo have been suspended from the next two Africa Cup of Nations and fined $50,000 will come as a surprise to many football fans around the world.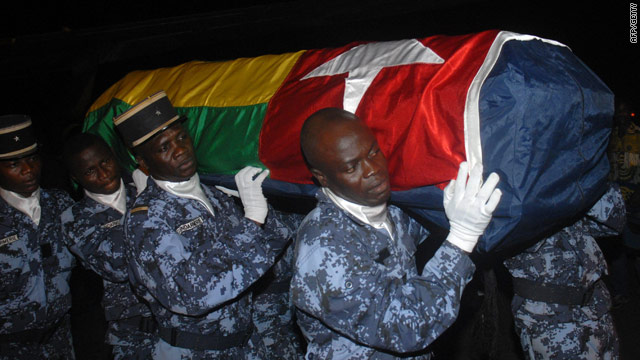 A coffin containing one of the three killed in the terrorist attack returns to Togo.
The governing body of the game for the continent of Africa will argue they have merely stuck by the letter of the law. Togolese politicians had no right to call home their national team from participating in the Nations Cup in Angola and by doing so they clearly contravened CAF regulations.
The move in CAF's eyes, was contrary to the wishes of captain Emmanuel Adebayor and his teammates to stay and participate; political interference in international football is prohibited, consequently Togo's "Hawks" must pay the price.
The mix of politics and football is a particularly thorny issue in Africa, a fact that may explain why CAF have reacted in a seemingly draconian manner, though the organization normally dishing out the discipline is world football's governing body, FIFA.
Unlike most national football associations around the world, where large revenues are created through the sale of broadcast rights and merchandise, most federations in Africa rely on the benefit of the state to operate.
In the past, this has led to unwarranted government influence when key decisions concerning the running of football were made according to FIFA, and consequently the independence of soccer organizations has been vehemently defended.
Ethiopia were prevented from taking part in the qualifying rounds of the 2010 World Cup for such reasons, while Kenya were suspended from international competition as recently as 2006 after their national federation became factionalized along political lines.
Nigeria came within a whisker of sanctions during the same period, while Niger suffered a ban in 2004 after "repeated interference from political authorities" in the affairs of the Niger Football Federation forced FIFA to act.
This is all well and good, but surely CAF have failed to appreciate the human circumstances behind Togo's failure to fulfill their fixtures.
The Togo team may have put themselves in more danger by ignoring CAF advice to fly to the tournament, they may also have warranted ejection from the event when they failed to play their opening match, but how many other national teams have watched three of their party die at the hands of machine-gun wielding attackers?
How many teams in history have faced playing a tournament with squad members struggling to recover from gunshot wounds?
Whether CAF's choice to ignore the simple and extraordinary facts surrounding Togo's tragic tale will prove a mistake only time will tell, but from a public relations point of view, surely to punish a team that is still reeling from the horror of their ordeal is to rub salt in already bloody wounds.