Barcelona to sign England striker Wayne Rooney, Bayern Munich to offload Franck Ribery or Rafael Benitez to quit Liverpool and join up with Italian giants Juventus ... a selection of just some of the best rumors circulating on the internet as the January European transfer window draws to end, and let's be thankful of their presence!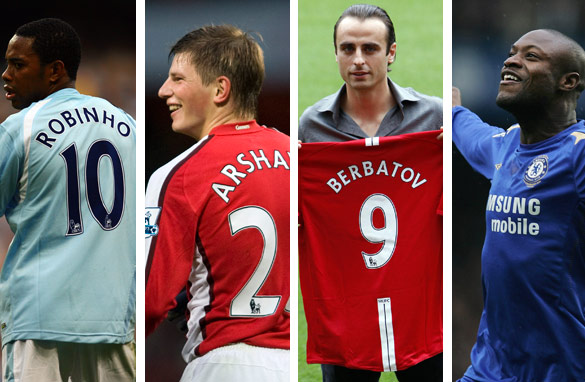 Robinho, Andrey Arshavin, Dimitar Berbatov amd William Gallas have all had last-minute transfers concluded on deadline day -- will there be a similar story as the first window of 2010 draws to a close?
In years gone by, the deadline day of February 1 was an event to excite football fans around the world as a few of the more far-fetched speculative statements were revealed as truth.
It was rumor columns that touted the prospect of Brazilian star striker Robinho leaving the regal surroundings of Real Madrid for the rain-soaked environs of Manchester City last year, and as fantastical as the deal seemed, the transfer went through with only hours to spare.
The signing of Bulgarian Dimitar Berbatov by English Premier League champions Manchester United was conducted in much the same fashion, but the anticipated frenzy of financial ducking and diving from managers, coaches, clubs and players around the continent has so far not happened this time around.
In such harsh financial times, with many teams struggling with debt, the first window for transaction of 2010 - which started on the first day of January and is due to shut on February 1 - has proved rather a damp squib compared to previous years.
In the English Premier League alone, $272m was spend over the same period in 2009. With the deadline looming, at the time of writing, only $17.6m of cash has changed hands. Has there been any bigger transfer between European teams in monetary terms than Andrea Dossena's $7.2 million switch from Liverpool to Napoli of Italy? Speaking as a fan, the pulse is not racing!
So, here at World Sport, we're asking for football fans around the world to help fill the dramatic void of factual happenings with some exciting rumor and speculation. Have you heard any good whispers regarding who your team may sign? Which players do you want your club to pursue? And what message do you have for the coaches keen to snatch your side's star player?
Let us hear your thoughts by commenting below.