There's a dubious distinction hanging over the head of the host nation of next month's Winter Games. It has to do with the lack of gold medals hanging around the collective necks of former Olympians. Did you know that Canada is the only country to host the Olympics twice and fail to win a single gold medal?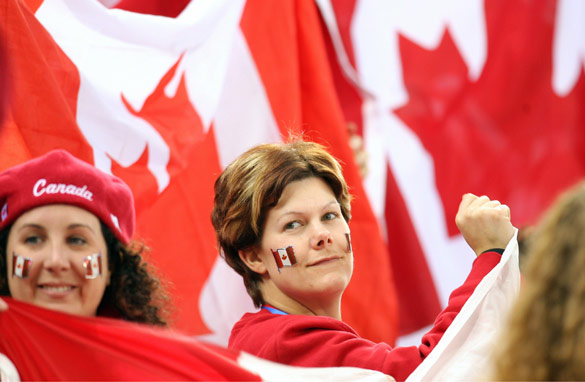 Canadian fans expect gold at this year's Winter Games, will the national program prove fruitful?
The national embarrassment caused by coming away from both the Montreal Summer Games in 1976 and the Calgary Winter Games in 1988, without an Olympic title and only 16 combined medals, has made "striking gold" in Vancouver "priority one" for the Canadian Olympic team.
To that end, the "Own the Podium" initiative was born. In the years leading up to the February 12th opening ceremony, Canadian athletes have gone through rigorous training in hopes of doing just that, owning the podiums at the 2010 Games.
The program collected over $110-million in public and private money aimed at getting homegrown Olympians gold medal ready. The United States, Canada's friendly but fiercely competitive neighbor, took up a similar approach ahead of the Salt Lake City Olympics but with less funding. It resulted in 10 gold medals and 34 overall as the host nation of the 2002 Winter Games trailed only Germany.
Four years ago, Canadian athletes came home from Italy with 24 medals, including 7 gold. So, if one is to believe in the power of momentum, then the signs are looking up for Canada ahead of "their" Games.
The stated goal is a record 35 medals with strong prospects coming from the team sports of men's and women's hockey and curling. 19-year-old Patrick Chan, a silver medalist at the World Figure Skating Championships and son of Chinese immigrants, is eyeing gold. So is reigning Olympic mogul skiing champion Jennifer Heil who could get things off to a hot start for Canada by defending her gold medal on the very first day of competition.
But, with big dreams come big pressure and many feel it falls squarely on the shoulders of Canada's star-studded men's hockey team which failed to win a medal in Torino.
A similar fate in Vancouver would be crushing to a nation that holds the sport in such high regard.
For a country that fancies itself as a "leader" in winter sports, the Olympics coming back to Canadian soil gives the hosts another chance to show off their considerable talents.
Only this time expect these games, at the very least, to be 'trimmed in gold' for Canada.