In the second week of February I'll be flying out to cover my first Winter Olympics and you probably will not be surprised to hear that I am excited about attending. However, as a British sports fan and, let's be honest, all sports journalists are fans too, that is not an easy thing to admit.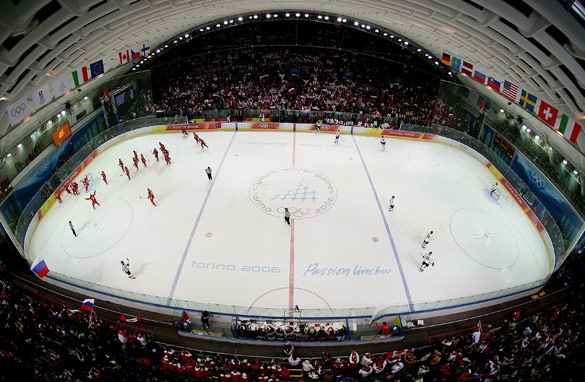 Can the Canada Olympic ice hockey team, seen here playing Russia (in red) in 2006, triumph as hosts and recruit a new fan in the process?.
Though as a European there were the skiing greats such as Franz Klammer, Petra Kronberger and Alberto Tomba to celebrate, Britain's medal hopes in cold competition often melted faster than a snowman on a sunbed.
Britain produced Jayne Torvill and Christopher Dean, who struck gold and revolutionized figure skating in the 1980s, but also ski jumper Eddie "The Eagle" Edwards, who did not soar into the sky as much as hold his nose, close his eyes and step off the end of the ramp.
That was at Calgary in 1988 – an unbelievable Olympics. Why unbelievable? Because it was the first time Canada had staged the games, 64 years after they began. And because the host nation did not win a single gold medal. I hope the so-called commentator's curse will not affect things here, but I can't see that happening again this year.
And I don't think I am going out on a limb to say the one sport Canada is most keen to triumph in is ice hockey. The men's team missed out on a medal four years ago and it caused a stir, but here is where I need your help dear readers.
I've been a sports broadcaster for nearly two decades and reported on nearly all mainstream events – as well as some weird and wacky ones – but ice hockey is one sport I just don't "get." It's clearly fast and skillful and the players are even allowed to have punch-ups, a bit like rugby union which I enjoy. However, I just can't get excited about it.
Maybe it's as simple as not growing up watching it or that I don't know most of the rules. Icing seems as indecipherable to me as football's offside rule does to my wife. Horse racing used to leave me cold too but a former sports editor loved it, made me learn about it and then I started to appreciate it.
Although ice hockey doesn't float my boat right now it's still the event I'm most looking forward to watching in Vancouver. Why? Well, I'm guessing if the Canadians can't convert me into a fan no-one can.