So the new tennis season is underway and on the eve of the Australian Open there is so much to be excited about! Unlike last year, the women's game has a chance to take centre stage thanks to the returning Belgians. Kim Clijsters is a delight to watch and her unbelievable US Open victory helped bring back Justine Henin too.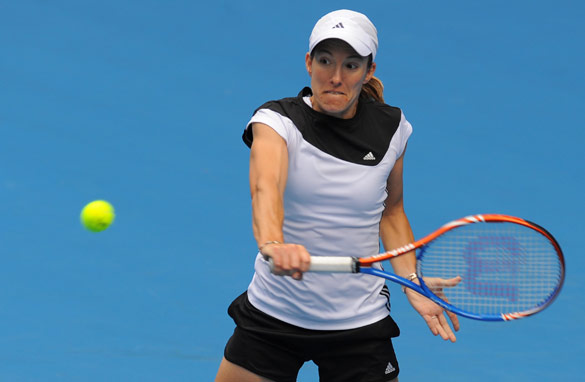 Justine Henin has looked strong but has much to prove before she wins another Grand Slam.
Henin's coach, Carlos Rodriguez, recently told us that Justine would take more time than Kim to experience success. I think he's right. Justine has a lot more to her game than her compatriot – therefore there's more that can go wrong. Henin is also a lot smaller and much less powerful so hitting hard from the baseline is not something she can fall back on.
On the other hand, there's an awful lot that can go very, very right, and so, with more matches under her belt, perhaps the French Open is a more realistic target.
Justine's goal though is Wimbledon, the one Slam missing from her impressive C.V. For her it's winnable – she has all the tools, especially in the head department, which is arguably the most important department in tennis!
On the men's side, every Major win for Roger Federer is a bonus from now on but he won't see it that way, he cherishes each Grand Slam. Every time he steps on court he aims to win – only when Roger is no longer competing for Grand Slam victories will he quit and happily I don't see that happening for quite a few years.
The problem for the Swiss maestro is that a few pretenders are now contenders. I now see the Aussie Open men's winner coming from a pool of eight – Federer, Nadal, Djokovic, del Porto, Murray, Davydenko, Soderling and Tsonga.
The main thing that amazes me about Federer (quite a lot amazes me, but I don't have time to write them all down) is how calm he is about everything.
Saturday was media day at the Australian Open, it is always a complete frenzy, and though I'm not there I can imagine he's taking it all in his stride.
From my experience, despite the fact he has traveled with his wife and twin girls, he'll answer every question thrown at him, no matter how stupid, and do it all in a very nice way with very little sarcasm.
That's why (the calmness, not the sarcasm!) I think he'll win at least another two Slams this year and for us, the fans, it will never get old. The question is: will he beat the pack to win in Melbourne?
I say yes!
Women's winner: Kim Clijsters
Men's winner: Roger Federer
What do you think?