Like everyone else, sportsmen and women have watched in horror and disbelief as the tragedy of the Haiti earthquake has continued to unfold. In the cosseted world of professional sport, where mental focus is everything, it would be easy to switch off to the reality of world events in favor of concentrating on your next match or race. But athletes are famed for responding to tragedies like the one in Haiti with compassion and generosity.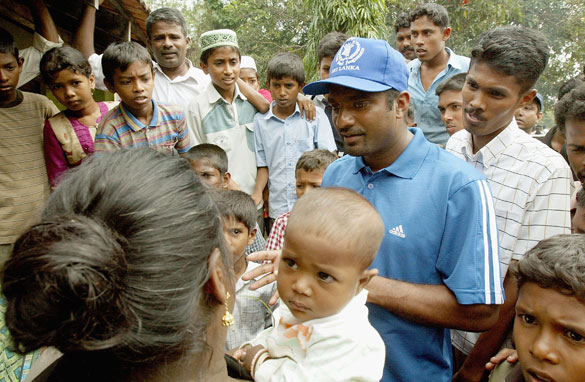 Cricket Superstar Muttiah Muralitharan helped fellow Sri Lankans after the 2004 Tsunami.
When the Tsunami struck Asia in December 2004, the response of the sporting world was almost universal. In cricket, Australian captain, Ricky Ponting, led an All-Star charity line-up in a match to raise funds for the relief effort, while players and officials from India, England, South Africa, New Zealand, Bangladesh and Zimbabwe were among those to make donations.
Tennis players also responded, with superstars like Roger Federer and Andy Roddick lending their support to UNICEF's disaster fund-raising program.
In Formula One, seven-time champion, Michael Schumacher, made a $10 million personal donation to the relief fund. While footballers, who are often maligned for being self-centered and materialistic, made a mockery of that assumption by staging "Football for Hope", a FIFA sanctioned match in Barcelona, Spain featuring the likes of David Beckham, Thierry Henry, Zinedine Zidane, Kaka, Andriy Shevchenko, and Ronaldinho.
And so it continues. The Hurricane Katrina disaster of 2005, which devastated the USA's Gulf Coast, brought swift reaction from American sport. Aside from visits to the stricken region by stars from the NBA, NFL, NHL and Major League baseball, there were also generous donations from men like Baron Davis of the Golden State Warriors, who put $50,000 of his own money into the relief fund; and Lebron James of the Cleveland Cavaliers, who, through his family foundation, donated $200,000 to help Katrina evacuees in Mississippi, Texas, Louisiana, and Ohio.
And the commitment of sport to the relief effort did not wane, with the NFL organizing the "NFL Hurricane Relief Weekend" late in 2005, which included a telethon involving more than 30 current and former NFL stars who raised money for the Katrina cause.
But it is not just the glitterati of sport who channel their compassion into tangible help for disaster victims. In 2008, track and field athletes who competed in the NCAA collegiate championships pitched in to help with the flood relief effort in Iowa. While going way back, runners of every age and ability joined forces in the global event that was "Run the World" in 1986, in which some 20 million people in 76 countries took to the streets in a mass jog as part of Sport Aid, which raised millions for famine relief in Africa.
I could go on, but as you see, sportsmen and women have rallied round in the past, and will surely do so again to help the victims in Haiti. Sport has a conscience. And, while that fact can often get lost amid all the drama and scandal that surrounds the sporting industry, it should not be forgotten.