The tragic events of Friday, which saw at least two people killed and seven of the Togo national soccer party injured from a machine-gun attack en route to the Africa Cup of Nations, has shocked the world of football.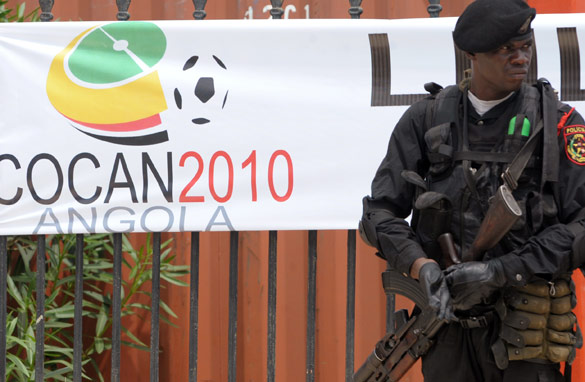 Angola are keen to prove they can have a secure tournament going forward.
Angola is a nation that has suffered its fair share of grief in recent times - the southern African state only emerged from a bloody three-decade long civil war when a peace deal was signed with Cabinda separatists in 2002 - and the hosting of the Nations Cup was symbolic of a united nation looking to the future; the fact that two of those traveling to celebrate this fact lost their lives is both sad and regrettable.
It is a shame too, because in a year when the spotlight is shining on African football like never before, the event has reaffirmed anxieties held by many that a continent often associated with tragedy in recent times will be unable to safely host a World Cup.
The knee-jerk reaction is understandable - it is all too easy to associate loss of life with "soccer safety" in Africa. In 1993, 18 of the Zambian national side were killed in a plane crash as they flew to play Senegal in a World Cup qualifying fixture. Tragedy struck again in 2007 when a helicopter carrying 20 of the Togo delegation, including sport minster Richard Attipoe, crashed traveling back from a Nations Cup qualifier against Sierra Leone, killing all on board.
Poor crowd control has also proved catastrophic. In 2001, 126 spectators of a league derby game died at the Accra Sports Stadium in Ghana, a disaster that was followed in the same year by 43 lives being lost at Johannesburg's Ellis Park Stadium, where overcrowding led to a stampede between fans of arch-rival sides Kaizer Chiefs and Orlando Pirates. Even as recently as 2009, 22 people died in a crush at the Houphouet-Boigny arena in the Ivory Coast, as Didier Drogba's men beat Malawi 5-0 in a World Cup qualifier.
However, despite the recent shooting in Cabinda adding to this lamentable list of calamities, calls by critics that the Nations Cup should be called off and furthermore that the World Cup now faces a greater security threat are misguided.
There have been many sporting events prior to the 2010 Nations Cup that have been blighted by adversity but not one has been aborted as a result.
Two people were killed in 1996 when a bomb exploded in Atlanta for example, but the American city went on to host the Olympic Games dubbed "The Celebration of the Century" in some style. Before this, nine Israeli athletes were kidnapped from the Olympic Village in Munich, Germany and subsequently killed by a terrorist group but the tournament of 1972 was not derailed.
More recently, in the 2007 Asian Cup, a suicide bomber killed around 50 fans in Baghdad who were celebrating Iraq's national soccer team's progress to the final. After much soul-searching the team decided to carry on, a choice that led to a 1-0 victory over Saudi Arabia and the capture of the title.
These events were not important because of their display of machismo or do-or-die bravery, but because the ethos and vision of the occasion did not succumb to the will of those who wanted to disrupt it with devastation.
The Angolan government have said they will reinforce security plans and the Confederation of African Football (CAF) are adamant the show must continue. Is it fair to ask the Nations Cup, an event that has reportedly seen $1 billion of resources poured into infrastructure construction in Angola, to be called off in a way previous tournaments have not?
If reports are to be believed, the Togo side themselves, led by captain Emmanuel Adebayor, wanted to continue to play before being flown out by their government.
As far as the World Cup is concerned, Danny Jordaan, the Chief Executive Officer for the 2010 World Cup Local Organizing Committee, has been defiant in his statements since the attack:
"I think the world understands that every country has its own military, police, intelligence resources and takes full responsibility for security within its own boundaries because they are separate and sovereign states," he said.
"We have just seen the attempted terror attacks on the United States. Unfortunately, it's a reality all over the world. Britain has its fair share of terror attacks, so does Spain and many countries. Clearly it's a global issue and we must understand it in that way. Of course, we cannot allow terrorists to win."
In other words, linking the attack in Angola to South Africa's security capability would be like canceling the 2006 World Cup in Germany because of the Madrid bombings in Spain. The two areas and events are clearly very different prospects. The "Rainbow Nation" has the same challenge facing it as any host of world football's biggest carnival, but with the resources of FIFA and the South African government fully behind the event, there is nothing to suggest those involved will be at any more risk than at the 2006 edition in Germany.
A belief that has prompted FIFA president Sepp Blatter to state to CAF president Issa Hayatou: "I have confidence in Africa and on the strength of this confidence we will together organize the flagship competition of world football in 2010."
Both CAF and FIFA have good reason to talk up the strength of their resolve and the need for confidence to remain in both tournaments, but agenda issues aside, is it ever right for the will of the terrorist disruptor to prevail at sporting events?