Before I go any further, I have to stress that, in my opinion, Patrick Vieira is, was and always will be a total footballing god.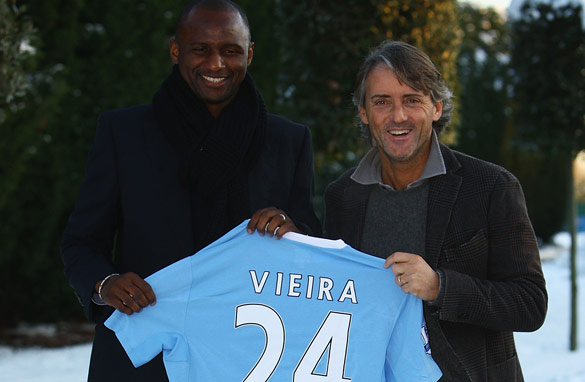 Patrick Vieira is Roberto Mancini's surprise first signing as Manchester City manager.
Many a time I have seen with my own eyes the power and influence that the Frenchman can have on a game of football.
Vieira captained Arsenal's 'Invincibles' of 2003-2004; he has won three Premier League titles, four FA Cups, three Serie A titles, a World Cup and European Championship.
In fact, since scoring the winning penalty against Manchester United in the 2005 FA Cup final, his final match for Arsenal, the Gunners have not won a single trophy.
That was Vieira's influence.
I chose the word 'was' carefully. Maybe Arsene Wenger did sell Vieira a year too early for Gunners' fans' liking, but he had become injury-prone and his all-action style of play was taking a toll on his body.
The slower nature of Italian football was always going to suit him more in his later years and Vieira has cleaned up in a less competitive league.
Yet Vieira's influence at Inter Milan has been getting less and less with the wily Jose Mourinho no longer reliant on his old war-horse.
So, with old Inter coach Roberto Mancini now at Manchester City, we see the return of Vieira Mark II.
Don't forget, City are the richest-club in Britain, possibly the world. They were willing to pay Kaka whatever he wanted to come to Manchester. They already have Gareth Barry, Nigel De Jong, Vincent Kompany and Stephen Ireland battling for a midfield place.
They can sign whoever they like, for whatever fee they want, yet Mancini swoops for a 33-year-old, deemed past his best by both Wenger and Mourinho (who incidentally have won five Premier League titles between them), on a measly six-month contract on a free transfer.
If rumors are to be believed Mancini was also sniffing around Juan Veron, another veteran who crashed and burned at both Manchester United and Chelsea.
Why is a multi-millionaire shopping at flea markets?
As I said before, 'Paddy' is a god and I will always love him for what he did at my beloved Arsenal, but he has had his day and the immovable colossus that he used to be, has gone.
Good luck Paddy, it's a great move for you. But all you City fans should be asking serious questions as to why the club who can get any player they want....can't.