Tradition has it that the holiday program in the English Premier League pretty much sorts the men from the boys, going a long way to determining who earns what come season's end. So what's the state of play?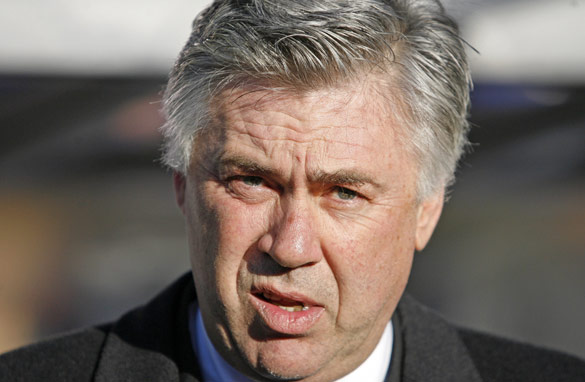 Can Chelsea manager Carlo Ancelotti win the English Premier League title in his first season in charge?
Chelsea ended the year on top of the table, but their two-point lead on second-placed Manchester United looks tenuous after they took only five hard-earned points from a possible nine over the holiday period. The good news for the Blues is that owner Roman Abramovich has been able to get them financially stable so that Carlo Ancelotti can dip into the transfer market in January if need be.
And he should, because he needs a goalkeeper to cover for the erratic Petr Cech, and maybe a central defender to give some relief to John Terry and Ricardo Carvalho. The bad news, of course, is the loss of four players to the African Cup of Nations at a time when Chelsea need to consolidate their lead. That said, the four matches that Didier Drogba, Salomon Kalou, Michael Essien and Jon-Obi Mikel could miss in a worst-case scenario are only against Hull, Sunderland, Birmingham, and Burnley. And any team with designs on the title should fancy their chances of taking at least nine points from those fixtures.
Like many, I tipped Chelsea for the title pre-season, but I'm starting to wonder if it's Manchester United's year again. After a 3-0 drubbing at Fulham, Alex Ferguson may well have cancelled Christmas because his boys put that leaden performance behind them, bouncing back to beat Hull and Wigan convincingly. All the same, I believe they do need some January reinforcements in the form of cover at the back for the injured Rio Ferdinand and the injury-prone Nemanja Vidic. They also need a reliable second keeper who's not overawed like Ben Foster, and someone to share goalscoring duties with Wayne Rooney, because Dimitar Berbatov's hardly prolific and Fergie seems reluctant to start Michael Owen. An injury to Rooney and they could be looking at only a podium finish.
Okay, I'm biased, because I'm an Arsenal fan, but if any team upped the ante during the holidays it was the Gunners. Three games, three wins, all of them by a margin of three goals. Father Christmas gave Arsene Wenger everything on his wish-list this year. And, in a month when Aston Villa provide the only obvious stumbling block, Arsenal could possibly be looking down on Chelsea and Manchester United by the time they meet the Red Devils at home on January 31. However, I still think they need to invest in a proven striker.
And what of that other North London side – Tottenham? Well, seven points from a possible nine over the holidays shows Harry Redknapp's men have the mettle to push on. And, if Jermain Defoe continues in the form matched only by Drogba and Rooney in the Premier League, I can certainly see Spurs ending the season in the top four. Though January will be key, with Liverpool, Fulham, and Birmingham certainly equipped to test the Lillywhites.
Which club can deny any of the above a top-four finish? Well, Aston Villa need a quick fix if they're to make it happen after losing two of three holiday games. While Manchester City's three-game winning-streak in the league has to be put in context, as the players were out to save former boss Mark Hughes in the first of them, and hoping to impress new manager Roberto Mancini in the last two. What happens when the shine wears off will be the determining factor.
As for Liverpool? Well, two straight wins following abject failure at Portsmouth has at least hushed talk of a crisis at Anfield. But the Reds have been so erratic this season, who knows what to expect next? But with the exception of a game with Tottenham, the fixture list has been kind to Rafa Benitez in January, as Stoke, Wolves and Bolton should not be insurmountable obstacles, depending on which Liverpool team shows up.
So that's how it looks at halfway in my opinion. Too tight to call I'd say. Unless, of course, you know different.