Anyone who thinks Michael Schumacher is going to win the drivers' title next year in Formula One is either German and blinded by patriotism or have allowed the festive spirit to cloud their judgment.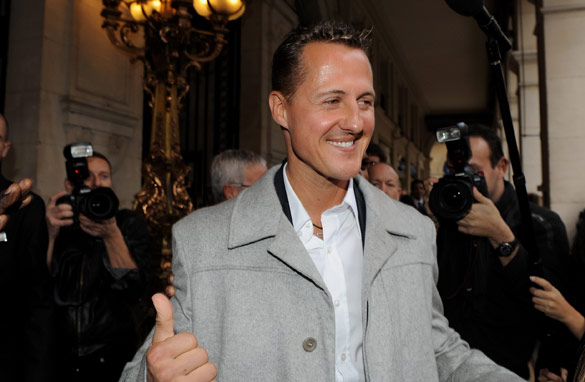 Could the Schumacher return fail to meet the high expectations of fans?
He'll be aged 41 when he hits the grid for Mercedes at Bahrain in mid-March and most of those drivers around him will be nearly half his age.
It's a massive factor, even if you have the experience of winning seven drivers' titles and have your old boss, Ross Brawn, back at your side.
New rules come into play; no scheduled pit stops next year means that the physical demands on the drivers has been cranked up a few notches. Only the youngest and fittest will survive and Schumacher will be neither.
Let's not leave out the fact that Ferrari and McLaren will be back to their best after throwing away the last third of last season to develop their 2010 cars. They won't get caught asleep by Brawn like they did this year.
And both the Italian and British teams boast three former world champions between them who desperately won't want Schumacher to steal their glory.
Throw in a few more technical rule changes coming Formula One's way next year and testing for all teams can't start until February 1 and Schumy has a mountain to climb.
He won't have the technical advances over other teams like he did at Ferrari as well as the bigger budget or the bigger team.
The greatest thing for Formula One through his new deal is that it offers the best build-up to the start of a season in recent memory. Even throughout the year there will be some great battles involving the former champ.
Picture this: It's Silverstone and McLaren's all English driver set-up takes on Germany's Mercedes team with Rosberg and Schumacher in the cockpit. A mouth-watering battle; let's just hope it doesn't rain or Schumy's got it in the bag.
His decision comes at a time when the sport desperately needs a boost after the ugliest and most controversial season in 2009 in living memory.
Car makers have dropped out and so too many sponsors. Schumacher will bring attention to the sport on track for all the right reasons and current sponsors of the sport will be jumping for joy. Potential sponsors might now decide to put pent to paper.
There are many reasons to welcome Schumacher's return but there's more chance of bumping into Rudolph the red nose reindeer than another title going the way of the legendary German.