Two months ago I wrote a blog about Rafa Benitez's precarious position as Liverpool manager. At the time the Spaniard was bemoaning his lack of squad size and I was posing the question that really he only had himself to blame.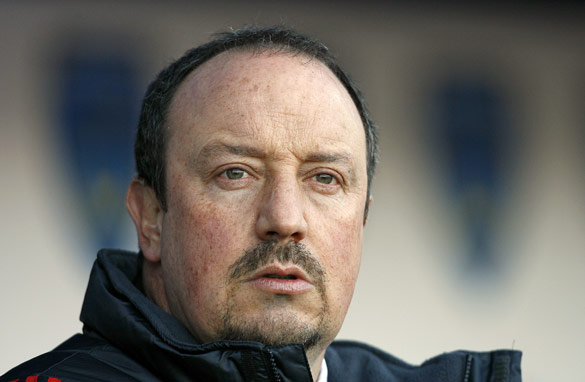 Rafa Benitez must do something quickly or Liverpool's season will implode completely.
My posting came just before the Premier League match at home to Manchester United, a game I felt they had no chance of winning.
Well, what did I know...They beat the champions 2-0 at Anfield that day, a result that gave renewed hope to the red half of Merseyside and meant they were still very much in the title race.
Since then, Liverpool have crashed out of the Champions League and the English Coca-Cola Cup and, at the time of writing, they lie a lowly eighth in the Premier League - eight points away from Aston Villa, who occupy the fourth and final Champions League placing.
In a season where a new order is beginning to emerge in English football, with Aston Villa, Tottenham and Manchester City all looking to challenge the established elite, Liverpool are being left behind.
Sure, they can still win the FA Cup and the Europa League, in which the patriotic English bookmakers have laughingly made them favorites ahead of teams like Valencia and Juventus, but does even the most ardent 'Red' believe that will happen?
The truth is that Rafa has had his time at Anfield and has to go, as soon as possible, for this great club to rebuild again.
OK..so the fans have not turned against him, but so what. That is only because they reserve their ire for the unpopular American owners who many believe are at the root cause of Liverpool's problems.
Well, I don't buy that at all. Rafa has had fortunes to spend and they are nowhere nearer ending their 19-year wait for title glory.
So, why hasn't he been sacked yet...Is finance the answer?..Can Liverpool not afford to sack Rafa?..If that is true, then they'll have even less cash when they fail to qualify for the Champions League next season - and a place in the Europa League won't be a certainty either judging by their abject recent 2-0 defeat at Portsmouth.
Things have got to change at Anfield, and quickly. Look at the players Rafa doesn't use...Ryan Babel, Andrei Voronin, Andra Dossena, Phillip Degen...why not sell those four and use the money..whatever it is...to sign a striker. Any striker who can score a few goals. He doesn't have to be a world-beater, just a good back-up for the amazing Fernando Torres.
Benni Mccarthy wants to leave Blackburn..The veteran Kevin Phillips isn't playing at Birmingham....How about Luca Toni, who Bayern Munich want to offload...Are you seriously telling me Luca Toni would not improve Liverpool's squad?..Plus he would provide company for fellow-Italian Alberto Aquilani, who is starting to look like the most expensive mistake in Liverpool's history.
Do some wheeler-dealing Rafa...Do something...But don't pass the buck or blame anybody else, because you have put Liverpool in this mess and - as seems increasingly likely - until you are finally relieved of your duties, only you can get them out of it.