Nike's decision to stand firmly beside Tiger Woods while others like Accenture and Gillette move away should come as no surprise.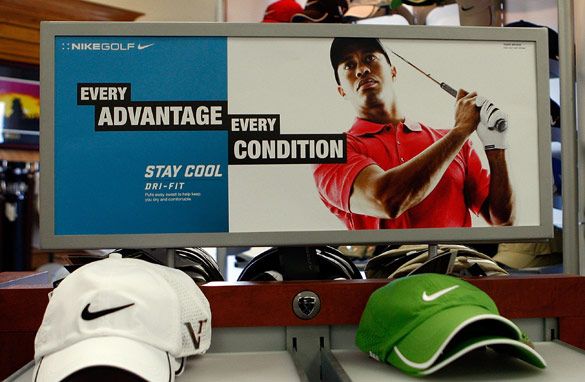 Tiger Woods has helped Nike build their brand in the competitive golf equipment sector.
Unlike Woods's tie-up with Accenture, which comes in the form of a comprehensive advertising campaign, Nike's deal with the world number one pretty much carries their entire investment in the golf equipment market. He is their golf industry all in one.
When I interviewed Nike Golf President Bob Wood in 2007 and discussed the relationship with Tiger on the back of another seven-year-deal worth hundreds of millions of dollars, here's how he summed it up:
"[When] you go back to the beginning. We had made shoes and some apparel for about 12 years before we signed Tiger. But I can pretty much say today and I've said it to him, I don't think we'd be in the golf business if it wasn't for Tiger," he explained.
You can see why Nike Chairman Phil Knight was on the front foot on Monday backing their prized asset and indeed hoping the scandal surrounding his off-course movements prove to be a "blip."
"I think he has been really great. When his career is over, you'll look back on these indiscretions as a minor blip, but the media is making a big deal out of it right now," he said.
It's not just right now that everything to do with Tiger is a "big deal." When you are the biggest marketing tool the game has ever had - Woods time as a professional has seen the USPGA Tour prize money grow from $80 million annually to this year's total of $280 million - then the risk of losing him becomes a massive deal.
When he stepped away from the game to recover from knee surgery there was not so much panic but real concern for the health of everybody involved in the industry, not just Nike. Interest in the game fell sharply, especially on U.S. television where numbers dropped by as much as 60 per cent.
Nike's decision to enter the challenging equipment market about seven years ago, to go head-to-head with established brands like MacGregor, Titleist, Callaway and Cobra came with spending hundreds of millions of dollars on research and development, design and distribution.
Tiger was key, and still is, to their marketing because he brought not just exposure for the brand but credibility to the design of the clubs and balls. "Sometimes you get asked 'how much do you sell because of Tiger?' and it's like I just sort of attribute us being as serious as we are and as important as we are to the relationship we have with him," Bob Wood said to me in 2007.
"It's kind of a fact of life at Nike that when you have somebody that is that important, when you consider yourself a product company and a sports company, you're making product…you know we make the stuff he makes his living with. And we can't make bad product."
By the time Tiger comes back to playing he will more than likely be still world number one so it will take a lot more than a few personal demons to scare Nike away from Tiger Woods with so much on the line.