The daily revelations about Tiger Woods' personal life have been like gold dust for media outlets around the world, the salacious speculation proving too sensational for any reader to be without reaction or thirst to find out more. From disgust and disbelief to sympathy and support, as details of the golfer's misdeeds continue to unravel it is hard not to have an opinion on the transgressions of the tarnished Tiger.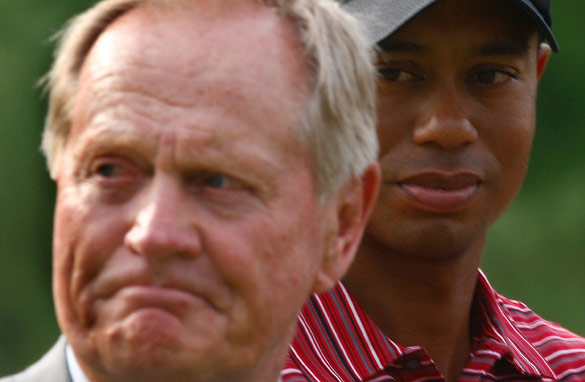 Will the tarnishing of Tiger Woods affect his bid to overhaul Jack Nicklaus' record of 18 Majors?.
However, a more pertinent opinion for golf fans might be how the events of the last few weeks will affect the performance, and ultimately the legacy, of a player who from the start of his illustrious career has been tipped to become the greatest golfer to ever grace the game.
Such status would not be confirmed by conjecture, but hard statistics. The 33-year-old American, since claiming his first Major in 1997, has racked up an amazing 14 titles, winning in a manner that has drawn countless new fans to the game.
His current standing is just four short of the overall record of 18 Major tournament victories set by Jack Nicklaus. Nicklaus retired in 2005 aged 65 - the potential for Tiger, whose career is in its infancy by comparison, to not only match Nicklaus but to surpass the great man's mark, is there for all to see.
Tiger's ascension to greatness was widely assumed a foregone conclusion, but given the ferocious nature of the current media storm, who is to say what kind of player will emerge back onto the greens?
Sure, Woods has shown his unrivaled caliber for competing under pressure before, but now the intensity of the media glare on the greens is matched in the realm of his private life too. Extreme focus and mental strength will be required for such scrutiny to not affect the man, let alone the player putting for prizes in front of an audience of millions.
The pre and post-round interviews, so long a stroll-in-the-park for the media-savvy Woods, now look a daunting prospect; a minefield of loaded questions primed to further damage his already battle-scarred image. Will Woods be able to keep a clear mind while playing in the knowledge that competition means more questions?
How will the crowd react? Will Woods ever be able to play on a golf course again without distracting comments from the galleries that surround his place of work? If his performance dips on the course how many of the brands associated with him will want to weather his off-course problems?
How Woods manages his comeback will be fascinating to watch, but only time will tell whether the world's best golfer has hampered his own bid to become the greatest ever, in a more emphatic way than any of his golfing rivals could have delivered.