Thirty-two teams, eight seeds, four pots from which eight groups of four will be drawn. No two teams from the same qualifying region may be drawn together, with the exception of Europe, which may have two representatives in each group. Those are the facts for Friday's World Cup draw in Cape Town, South Africa.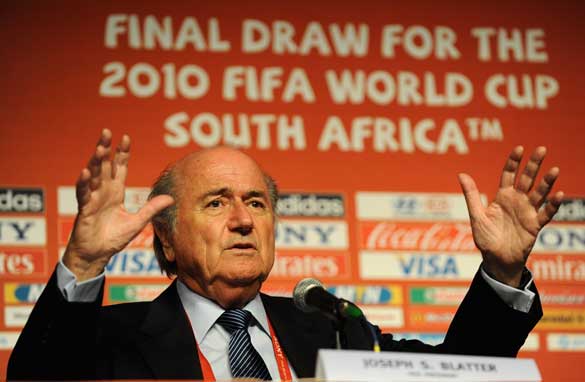 FIFA President Sepp Blatter ahead of the World Cup draw in Cape Town.
The prelude to the greatest show on Earth always reminds me of election night, when you sit round the TV watching the political landscape develop one result at a time. And just like in the political arena, the outcome will set the tone for what is to come when the real business begins next June.
Of course, the process will be meticulous, to avoid any accusation of unfair "stage management".  But if I were coach of any of the seeds - which include hosts South Africa, reigning champions Italy, Argentina, Brazil, England, Germany, the Netherlands and reigning European champions Spain - there are several teams I'd certainly hope to avoid.
Top of my list would be France. Unseeded but ranked seventh in the world, the French have their pride at stake. After an embarrassingly early exit from last year's European Championship, they struggled through the World Cup qualifiers, drew the wrath of the world with a controversial play-off victory against Ireland, and have, in Raymond Domenech, a coach under siege.
In short, Les Bleus, who let's remember have made two of the last three finals, winning in 1998, are a wounded tiger. So beware.
As we all know, this is Africa's first World Cup. And, though Africa is a continent not a country, I believe that most Africans, regardless of nationality, see this tournament as theirs, and will back every African team against all-comers. So, home advantage will go to all six African teams not just South Africa.
And the two teams tipped to make home-advantage count are the Ivory Coast and Ghana. The Elephants, as the Ivory Coast are known, qualified impressively without losing a match. They boast a squad drawn substantially from the cream of European football, and are spearheaded by one of the most feared strikers in the game - Didier Drogba. They also want to atone for 2006, when they went out in the first round. So, my expectation is that the Elephants will charge.
Ghana might also be a team best avoided by the big guns early on. The Black Stars were the first team to qualify for the finals; are defensively sound, (belying the hoary old criticism that African teams lack defensive discipline); and are riding the crest of a wave after winning the Under-20 World Cup. What's more, despite having made the finals for only the second time, Ghana is regarded as a sleeping giant of African football, which may be about to awaken.
Chile and Paraguay would also be on my by-pass list. In the unusually tight South American qualifiers, they finished second and third respectively, each with only one less point than five-time World Champions, Brazil. Chile is a quality side that scores a lot of goals. And, as the youngest team to make it from South America, tend to play without inhibition. Meantime, Paraguay is a well balanced team, strong in defense with a new found potency in attack.
Mind you, looking through the field there are few teams I'd consider pushovers. Would you fancy taking on Australia in the first-phase after they ran eventual champions, Italy, so close in 2006? They also dominated their group in the 2010 qualifiers despite switching regions from Oceania to a tougher Asian section.
And what about the unpredictable USA? While their only World Cup of note was in 2002 when they made the quarter-finals, they proved in this year's Confederations Cup Final against Brazil that they can test the best on their day.
As the cliché goes, there are no easy games in international football, and I can't wait to see who meets who in 2010.
If you'd like to follow the draw along with analysis via Skype from CNN's expert panel, make sure to visit the Connect the World Web page later today and click on "join the chat." All you need to get involved is a Skype username. We look forward to hearing your opinions as each country discovers its fate.