So, battle lines have been drawn, and each team now knows the immediate task ahead.
For some there'll be joy as they see a clear way through to the knock-out phase, while for others there'll be gloom with the realization that, short of a miracle, their World Cup may well last just three games.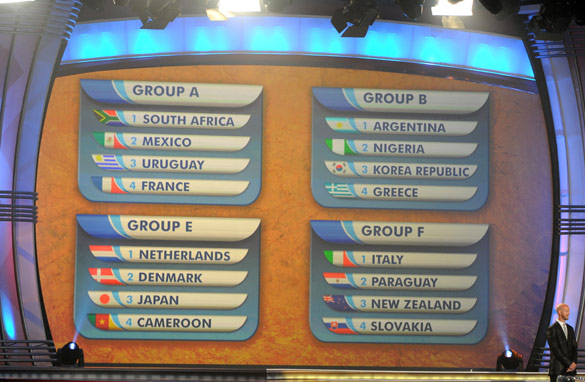 The draw for the 2010 World Cup finals means the countdown to South African begins in earnest.
No coach worth his salt will admit to either feeling though, as over-confidence piles on the pressure and sets you up for a fall, while a lack of confidence can be a self-fulfilling prophecy.
Instead, they'll head home, diplomatic and purposeful, to plan their strategies.
Ahead lies months of looking at tapes of the opposition; examining statistics; listening to scouting reports on this player and that; mulling over your squad selection; team formations; training schedule; accommodation etc.
The list is endless, but no detail can be overlooked, because 99 per cent preparation tends to equal 100 per cent failure.
So let's take a quick look at the groups. No doubt about the group of death, that's Group G.
Brazil, the five-times champions, are an obvious force; Portugal, who were semifinalists at the last World Cup, did not qualify well, but they have more than they showed; the Ivory Coast, African Cup of Nations runner-up, did not lose in the qualifiers, and have quality throughout; and North Korea, are an unknown quantity, who should be the whipping boys, but you never know.
The Netherlands are the best footballing nation never to win a World Cup, but nobody's talking about the Dutch threat. They won their European group by a landslide, and their World Cup group with Denmark, Japan and Cameroon should afford them a comfortable passage to the knock-out phase.
Germany and Ghana will not have things their own way in Group D. Serbia didn't stroll through the qualifiers, but won their group. And then there's Australia, who have quietly built into a real force. They dominated in the Asian qualifiers, and you'll remember how close they ran Italy in 2006. So this group could produce some drama.
Argentina can't breathe that easily either. Former European champions Greece have, in Otto Rehagel, the anti Maradona - a seasoned methodical coach as opposed to the inexperienced Diego who manages by instinct. South Korea have a decent world cup pedigree, and then there's Nigeria, a nation that didn't qualify that impressively, but has proved capable of rising to the World Cup challenge in the past. If not the group of death, it's no cake walk either.
South Africa will face a job to get out of their group, as we suspected. Unseeded France are clearly the favorites. Then it's a case of duking it out for second place between Mexico and Uruguay, with Mexico my tip to pull it off. Bafana Bafana will need to really dig deep to avoid being the first host not to make it to the knock-out phase. Carlos Alberto Parreira you have a tough few months ahead.
My home team, England, should make the second phase with some comfort. The USA will raise their game against the mother country, but I don't believe they have the weapons to hurt the English unduly. Algeria and Slovenia should not trouble Fabio Capello's men, though, if there is a banana skin, it could be the gutsy Algerians.
Finally, Italy and Spain can rejoice, because they are far and away the favorites to advance from their groups, with Paraguay and Chile respectively, my choice to join them in the last 16.
And that's my take on the draw. Though, as we all discovered when most of the big guns underperformed at the 2002 World Cup in Asia, when teams travel to unfamiliar territory, strange things can happen.
And let's face it, whether you do this for a living like me, believe yourself to be an armchair expert, or are just a casual fan, we all know varying degrees of nothing until it all kicks off in June. Let the games begin.