Tiger and his people have been masterful in keeping his private life well away from the media glare.
But given what has emerged over the past week it's fair game now that his life outside of golf will come under closer scrutiny. The fact that he chooses to confess his sins and transgressions behind the curtain of his web site is quite frankly pretty weak.
Bryan Hyland hit stardom in 1962 with his hit romantic single "Sealed with a Kiss" and I was wondering whether Tiger Woods might want to release his own version: "Sealed with a Crash."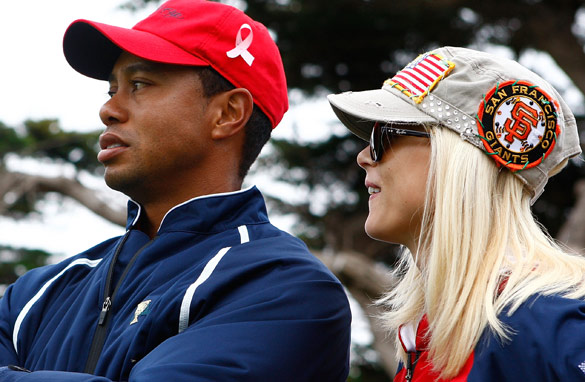 Tiger Woods and wife Elin in happier times.
Wow! did he seal his fate when he drove his SUV into a tree and fire hydrant in front of his home in the earlier hours of the morning last Friday.
The kiss-and-tell stories that have emerged after the mysterious circumstances leading up to the crash have taken many by surprise and whipped up a media storm.
The perceived rock-solid surroundings of everything to do with Tiger have been shaken to the very foundations, the man who was a model of control has become a character of chaos.
That's one of the main reasons why there is such intrigue and interest in the world's most recognizable and yet private sportsman.
The confession of transgressions – see even the lyrics would rhyme for Tiger's tune – and letting his family down have certainly damaged his image for ever.
Pro golfer Jesper Parnevik has been the most outspoken yet and he would be for good reason. Parnevik introduced Tiger to Elin Nordegren when she was a nanny for the Swedish Parnevik family.
"I really feel sorry for Elin, since me and my wife were at fault for hooking her up with him," said Parnevik.
"We probably thought he was a better guy than he is. I would probably need to apologize to her and hope she uses a driver next time instead of a three-iron."
Like most of the story, I'll leave you to draw your own conclusions in relation to Parnevik's reference to a driver.
The Swedes take great pride in putting the family unit at the core of their culture; it's something we have covered on Living Golf extensively. So you could imagine that when Tiger leaves everyone to draw their own conclusions when he admits to "letting his family down" Parnevik had a couple of good reasons to hit boiling point.
I should imagine at some point there will be a well choreographed interview with Tiger when he and Elin decide it's time to talk about the controversy.
Until then Tiger will have to hide from the firestorm and plan his next comeback tournament appearance. Could you imagine the media frenzy that will surround that?
Tiger has done a lot of rebuilding over his career – from his swing to the strength in his knee after an operation. On every occasion his game has suffered but he has managed to come back stronger and a better player.
This time he'll need to convince his family, sponsors and spectators that when he comes-back he is a better person and the crash didn't seal the end of his value to the game. That song would not be a good one for golf right now.