Lionel Messi's anointment as European footballer of the year will have come as no surprise to anyone. He's been touted throughout the last year as the chosen one. And, as the award is voted on by the very journalists who supply all the hyperbole, there was every chance he'd be crowned.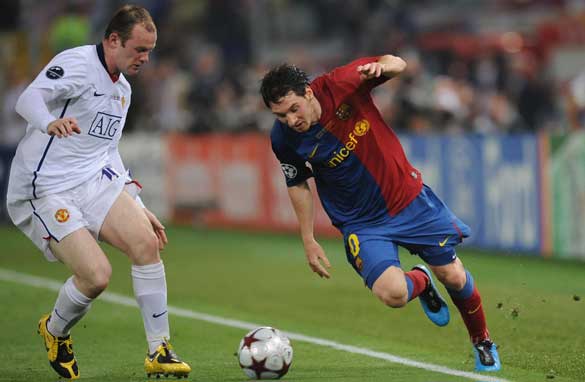 Is Wayne Rooney more deserving of the Ballon d'Or than Lionel Messi?
He's also a hot favorite for the FIFA World Player of the year title due to be awarded later this month. And, after a year in which he helped Barcelona win the treble of the Spanish league, Copa del Rey, and European Champions League, there's no doubt that he's as good a choice as any for the big prize.
However, my question is - what is the point of these awards? The last time I looked, football is a team game in which the effectiveness of one player is wholly dependent on the contribution of others. Only once in history has a player ever come close to consistently winning games on his own, and that was Diego Maradona, who won the World Cup for Argentina and the Scudetto for Napoli ,with his team-mates playing bit parts. But as special a talent as Messi is, he shares nothing but his nationality with Diego, whose skills were from a different planet.
Messi needed others to hit the heights, as born out by the fact that his Barcelona team-mates from last season,  Xavi, Iniesta, and Eto'o also finished in the top five of the Ballon d'Or poll. Sure, he's a good player, maybe even a great one, especially when it comes to his attacking prowess. But, if you're talking about the "World Footballer of the Year" shouldn't the recipient of the title be more of an all-rounder? 
For example, England's Wayne Rooney helped United make the Champions League final and win their third English Premier League crown in a row with a three-pronged effort in which he scored goals, made goals, and prevented goals with some of the most tenacious and disciplined football ever seen in the game. What's more, should Alex Ferguson ever need an emergency goalkeeper, I've heard that Wazza, as he's known, is also pretty handy between the sticks.
Is Messi as well rounded? No. And neither was Cristiano Ronaldo before him, Kaka, or many others before that. But this is not intended as a case for Rooney and against Messi, but against the whole notion of an individual award in a team sport. An All-Star team, naming the best player in each position – perfectly valid, as you're comparing like with like. But a World or European footballer of the year per se? It makes no real sense. After all, what is it they say? There is no "I" in team.