The Republic of Ireland's request for an extra berth in next year's World Cup finals is perfectly understandable given FIFA's harsh ruling on their demand for a play-off replay with France, but I can't say I'm in favor of it succeeding.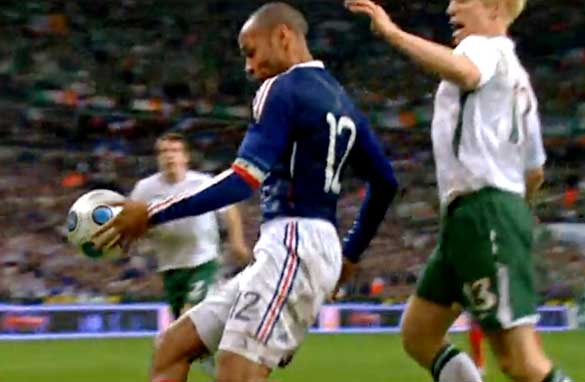 Thierry Henry and the offending handball.
Yes, I know that FIFA president Sepp Blatter and his cohorts have said they will give it due consideration, along with Costa Rica's bid for inclusion in the wake of a dubious goal by Uruguay in their play-off, but I think to expand the finals from 32 teams to 34 would be bad for the tournament.
When I first started watching the World Cup it had only 16 teams; the Finals lasted barely three weeks; and being part of that elite group carried massive prestige because the number of finalists was so small.
The limited entry also allowed us, as fans, to get to know the players, and personalities, and the character of each team, so that Pak Doo Ik of North Korea carried as big a wow factor as a more familiar name like Bobby Charlton or Pele.
For three weeks we were cocooned in a football dome full of high intensity and a special kind of magic that came from the real or imagined spectacle of seeing the best tackle the best.
Contrast that with 2010, when 32 nations will take part in an amorphous tournament lasting just over a month, featuring several teams that would not have made it had they been located in a stronger geographic qualifying region, and involving so many players and personalities that it will be a full-time job keeping track of who's who and what this match means to that.
Not that I'm deriding the tournament. It's still the greatest show on Earth for football fans like myself, but it has become a victim of its own success.
It's now too big in my opinion, with the result that some of the passion, intensity, and cache of being involved as a player, coach, and fan has been diluted.
And now they're apparently considering extending the tournament to 34 teams? Lunacy! That would be a logistical nightmare for the organizers; unfair to the 31 teams (aside from France) who got there legitimately; and supremely unjust to the unfortunate nations drawn in the two groups of five from which only two would advance to the second phase.
And not only that, like the summer Olympics and the European Champions League the aura of the competition would be further diminished for the fans, because, for me, you can have too much of a good thing.
So, sorry Republic of Ireland, I was fully behind your quest for a replay of the game with France, but I can't back this one, for the simple reason that sometimes less is more.