Firstly, let's face it, managers have been fired for less, and I think in a perfect world Liverpool would get rid of Benitez, because his team is not achieving on the pitch and he seems unable to attract the kind of players, Fernando Torres aside, that can change the situation.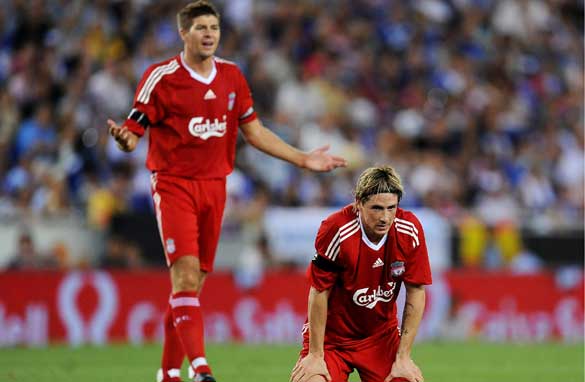 Selling Fernando Torres to fund reinforcements will hurt Liverpool more than help.
But I don't think Liverpool will get rid of him in a hurry because they cannot afford the compensation, and there is not a ready replacement available. Jose Mourinho and Louis Van Gaal are only in the frame because they're failing almost as badly as Rafa in the Champions League, so the Reds may think better the devil they know.
But, rebuilding of sorts is necessary, and this is the time to do it because their only real distraction will come in the battle to make the top-four in the English Premier League to qualify for next year's Champions League.
As much as players pay lip-service to the F.A Cup and Europa League those competitions are peripheral to the real business, at least for a club like Liverpool that believes it should challenge for the top honors. So now would be the perfect time to build for the future.
I'm not sure that selling Torres would be a good idea, even if he did raise $120 million. Spending just that much on a handful of players would only get the kind of mediocre players Liverpool have, with the exception of Torres himself, been buying for the last few years, and that clearly isn't good enough.
Therefore, whether Benitez stays or someone else comes in, he'll still have the same old problem - insufficient money and a general lack of quality players. So selling Torres or even Gerard would be cutting off your nose to spite your face. Better to accept the season as a bust, and look to the next two transfer windows for some bargains, like Arsene Wenger does at Arsenal.
The Gunners have long since accepted that they are NOT Chelsea or Manchester City in terms of finances, and that they are NOT Manchester United in terms of prestige. As a result they can't easily acquire the big-name players. But what they have done is become canny and astute in the players they do buy and in the way they deploy them, which is something Benitez is not. Like I said, it's time for Liverpool to reassess, with or without Rafa.