Rafa Nadal's performances at the ATP World Tour Finals in London have raised serious question marks about the Spaniard's well-being.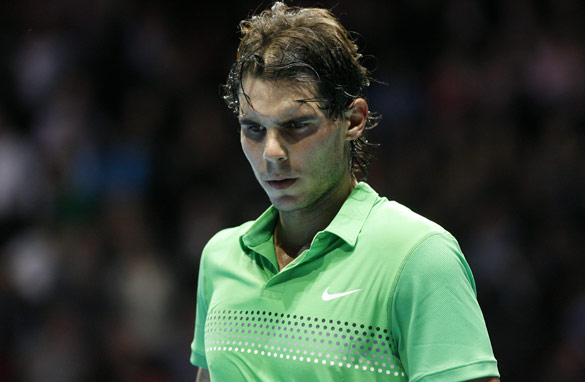 Can Rafael Nadal ever return to his former heights again?
Nadal began 2009 in superb style, beating Roger Federer to win the Australian Open title, taking him one tournament away from a clean sweep of slams.
His displays over the last year had taken the Spaniard to number one in the world rankings and all the locker-room mummerings were about Federer's possible demise and Nadal's increasing superiority.
Yet, the last seven months have seen a complete turnaround in the fortunes of the Majorcan.
A stunning defeat at the hands of Robin Soderling saw Nadal's seemingly invincible reign as French Open champion come to a crashing end - leaving the way open for Federer to snatch the one title that had always eluded him and take back the No.1 ranking in the process.
How had Nadal gone from this unbeatable powerhouse, to looking vulnerable, in the blink of an eye?
Well the answer soon became appearent when it was revealed Nadal was suffering from a crippling knee injury that would mean he could not defend his Wimbledon title, an absence that Federer took advantage of to take back his SW19 title in dramatic fashion.
With injuries so commonplace in modern tennis, I reckon it takes a really bad one to stop somebody competing in the most prestigious tournament in the world - especially when they are the defending champion.
And since his return to the ATP Tour, Nadal has looked a pale shadow of his former self. To be beaten in straight sets by both Soderling and Nikolay Davydenko in London is not the form of a man ranked second in the world.
Nadal prides himself on his upper body strength. His power and physique is something to behold and made him the player that took the tennis world by storm.
But while your upper body can be strengthened permanently, the knee cannot. Could it be that years of pumping iron and making his upper body stronger have placed too much strain on Nadal's lower body?
Could his knees be showing the wear and tear of coming into the sport so early and generating the immense power that is needed for those stunning clay-court ground-strokes.
On faster surfaces, Nadal is now just another player. If he does not perform to his previous imperious clay-court best, following the winter break, maybe he never will.
The acid test will be Roland Garros 2010.