For Liverpool, the road has come to a dead end. It may have had its twists and turns, its ups and downs, but after results conspired to dump the five-time European champions from the Champions League, there is nowhere else to go. Out of European competition and out of the English Premier League title race, the Reds are faced with yet another season when they will win no silverware of note.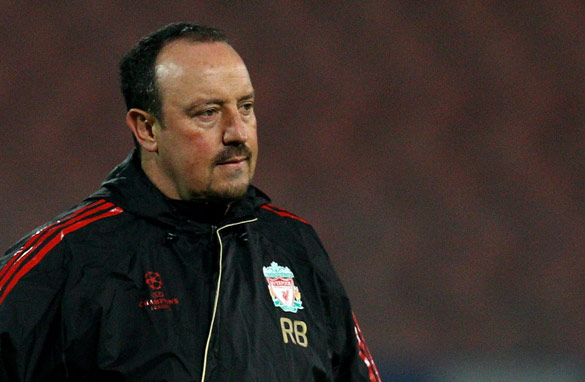 Has Benitez reached the end of his useful life with Liverpool?
You can try to point the finger at the owners of the club or at some of the players, but in my opinion the man to blame is Rafa Benitez. He's had five years to get it right, and although last season he came close to ending Liverpool's title drought, in the end he came up short. A combination of bad buys and questionable tactical choices means he should start thinking about leaving Anfield.
Liverpool should have qualified for the knock-out stages of the Champions League. They were placed in a group that was perfectly manageable. Lyon is a good side, but Fiorentina is average at best (by Champions League standards) and Debrecen still has a long way to go before being able to battle with the best. They should have finished in the top two. But they didn't and now one is left to wonder what they have left.
Where to go from here? Thirteen points behind Chelsea in the domestic league, their title hopes are slim at best. So does this squad have enough quality to ensure a bright future? Hardly... the only promising player they have is David N'Gog and he is not someone to build a team around. If you ask me, they have to start from scratch. New manager, new players and new owners.
Steven Gerrard is still strong enough to be a central figure, but they may have to sell Fernando Torres to fund the spending spree they need to become a world class side once again. Let Fernando go for around $120 million and get a handful of players who will make a difference.
Who would be the ideal man to take over? If you ask me, they should look no further than Jose Mourinho. He loves England and England loves him. He has become an unwanted man in Italy with the press growing tired of his antics, and Inter would also allow him to leave considering he will most probably not win the Champions League this season.
Rafa out, Jose in. Torres out, new blood in. Then there may be a bright future at Anfield... because right now, there is nowhere to go.