Lee Westwood is almost in the veteran stage of his career, having been on tour for 16 years and experienced the game at all levels.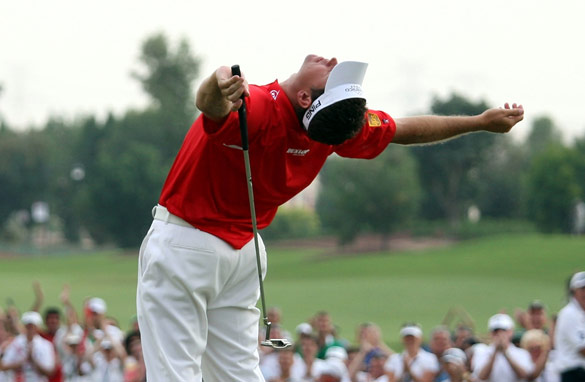 Westwood celebrates with suitable body language after a tour-de-force of intimidation at the Dubai Championship.
His round on Sunday to win the Dubai World Championship was one of the best I have ever seen from a professional and his persona all week spoke volumes of where his game is right now.
He has learnt so much over the roller coaster years. One of the keys to success that he has unlocked and so many find hard to grip is the ability to intimidate. Ali, Jordan and Schumacher come to mind as great examples.
If you are at the peak of your game, stand tall, impress on others your advantage and watch as the opposition crumble into submission.
Tiger is the finest example on the planet at the moment and he uses his presence in every tournament. Simply put, Tiger's expressions say something like this: "I'm the best. You want me come get me if you think you are good enough."
It doesn't make the whole field go weak at the knees but some do, and that is a handy advantage to have before you even make to the first tee.
That's exactly how Westwood carried himself this week and he knew it was working when Race to Dubai leader at the time Rory McIllroy finished his opening round with Westwood and declared: "I couldn't wait to get away from him."
It referred to just how well Westwood was playing but it was a compliment that showed McIllroy's hand.
"He should never has said that and he will learn from it. You never give away that fear factor," Westwood said.
It meant that Westwood's intimidatory approach was working and he had the measure of his 20-year-old stable mate after day one when McIlroy was the man to catch.
The Englishman says McIllroy has some weaknesses in his game and I think he was not really referring entirely to his ability on course but some things he needs to learn when speaking publicly and the mind games seasoned pros play with the media at their disposal. He would do well to learn from Tiger the master.
It was a good lesson for the young Northern Irishman before he heads to the lions den that is the US PGA Tour next year and Westwood's brutal assessment was aimed to help McIllroy not humiliate him.
Westwood just needs to bottle his approach over the holiday period and unload it next April at the Masters in Augusta. He may struggle to intimidate Tiger, in fact no one can, but the 36-year-old at least has an extra club in his bag that the rest of the field won't have – it's called intimidation.