When all the dust has settled on Le Handball debate, what will we have learned from this debacle? Well, first and foremost it's been confirmed that FIFA is unwilling to see their rules as an organic set of conventions.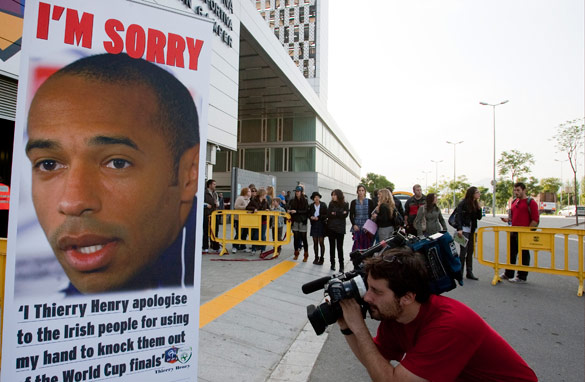 Henry may have apologized but Ireland will not be going to the World Cup finals.
The decision not to replay the France/Ireland play-off was, of course, widely anticipated, as FIFA is a bureaucratic body renowned for following the letter of its laws even if that seemingly goes against their ethos of 'fair play.'
To order a re-match would have been a watershed moment in world football, and FIFA does not willingly change the status quo.
A human reaction to the public clamor for a replay would have been totally out of character, and I doubt there's one person in football who expected the sport's governing body to right the injustice that so many around the world witnessed.
So, what else have we learned? Well, we now know that Thierry Henry, for all his talents, is not the icon he was considered when he played for Arsenal.
Not because he committed the handball, but because he celebrated the goal by Gallas so fervently without a hint of guilt, even though he knew it wasn't legitimate.
To admit to handling the ball after the fact and then absolve himself of blame by putting the responsibility on the ref, smacks of a man without honor.
And what of the ref? Well, surprisingly I can sympathize with Martin Hansson and his assistants.
In the dying moments of a tense battle they blew the vital call. But I'm not a conspiracy theorist, so I genuinely believe it was an honest error. Granted, as the Swedish press wrote, it's probably "the worst refereeing mistake in 20 years", but I feel sure he didn't make it with bad intention.
However, what his howler demonstrates once and for all is that football needs a safety net, or possibly two.
The experiment with 5 officials at the Under-17 World Cup and in the Europa League must surely be adopted throughout the game. Everything else in football is decided by large committees, why not the thing that matters most - what happens on the pitch.
I also think the use of instant video replays is now essential. Other sports, like rugby, tennis, and American football utilize technology. FIFA and every other governing body in the game has embraced television for financial gain, so why not use the cameras to help preserve the sport's integrity?
Of course, all this will not put Ireland on the plane to South Africa next summer. But like the Bosman incident that revolutionized football transfers in the 1990's, some good could result from the bad. I wonder if FIFA will change?