How many players would be able to say they've won football league titles in 3 different countries?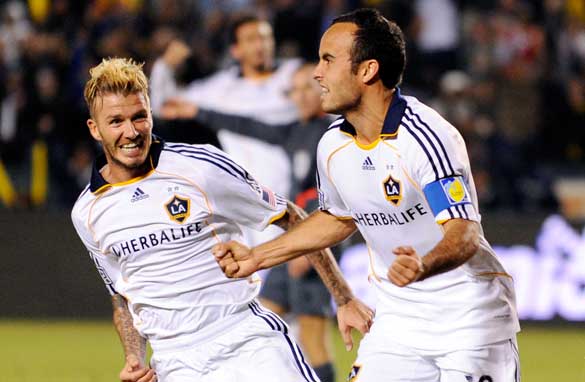 David Beckham celebrates with LA Galaxy team-mate Landon Donovan.
After taking trophies in England and Spain, that's the task of David Beckham come Sunday, when the Los Angeles Galaxy face Real Salt Lake in the MLS Cup Final.
It's on ESPN at 830 pm ET here in the United States – and get this – it's also on live at 1.30 am local in London – on the UK version of ESPN. Anyone staying up to support your native son? In fact, our friends at Major League Soccer tell us the match is being broadcast in 122 countries around the globe.  
I'm not going to carry on here about the Beckham Experiment, the troubles with Landon Donovan and the Galaxy fans.
With the boos ringing loud, Beckham came back to a good Galaxy team, and made them better.  Before Becks – six wins, 3 draws, 2 losses. With Becks – six wins, 3 draws, 2 losses, first place in the Western Conference, surviving the knockout round playoffs for a berth in US soccer's biggest match.
So we can validate what Becks means to the LA Galaxy. But has he raised the profile of US Soccer?  I think so, but I'm too close to it, and I need your help. Please sound off below.
Here's what we know: Major League Soccer has set a new record for attendance during these 2009 Playoffs matches. One of the highest TV ratings ever for Major League Soccer was last Friday's Galaxy v Dynamo match from Los Angeles, even though it kicked off at 1130 pm East Coast time. When the Galaxy hosted Barcelona this summer, the crowd was the biggest at any soccer match globally since the 1994 World Cup.
My own barometer? An increasing amount of people from all walks of life here in the CNN Center were getting excited about "World Cup Wednesday" and dialing us to tell where they might be able to keep an eye on the matches while at work. I can feel the increased interest in soccer in my immediate proximity. Can I pin it all on Beckham? No, but my feeling is that his presence has only helped grow the sport here, not hurt it.
Let's look at what Sunday's MLS Cup Final will be up against on American TV.  Oh no, the NFL! American football, especially the National Football League, is a ratings monster, all but devouring everything in its path. And it's Philadelphia at Chicago (at 8pm ET), two major markets.  Can Beckham make a dent? I hope so.
Throw-ins:
Has anyone played more football in 2009 than David Beckham? 18 for Milan, about to be 17 for the Galaxy, and seven for England.
Any irony, maybe irony isn't the right word – to the fact the Galaxy are facing "REAL" Salt Lake, a name based on Beckham's former team in Spain?
The match will be played on an artificial pitch in at Seattle's Quest Stadium, the first MLS Cup final to not be contested on real grass. (Real Salt Lake has never won away from home on an artificial pitch in 11 tries.)
Prediction: Galaxy 3, Real Salt Lake 1