Believe me when I say that I feel sorry for Ireland and I think it's scandalous they were prevented from qualifying for the 2010 World Cup by a goal which was scored after such a blatant handball. However, FIFA rules state and have always stated that the referee's decisions are final. There was never a chance of a replay.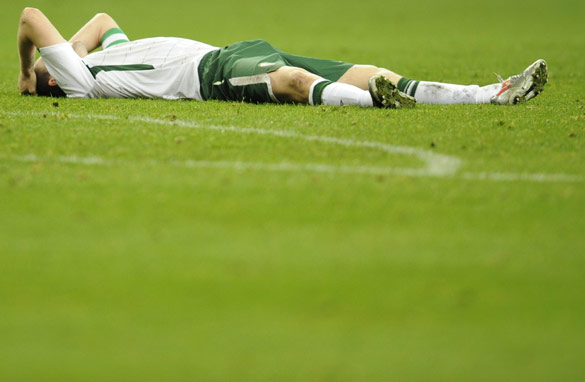 A dejected Irish player reacts to his team's loss to France.
Before I explain why Ireland's argument is misdirected, I will answer the question you are probably asking in your mind. What about the World Cup Qualifier in 2005 between Bahrain and Uzbekistan? That was replayed!
Yes it was, but for different reasons. The referee at the time made a crucial technical error which concerned the laws of the game. Instead of ordering a penalty to be retaken following encroachment in the area, he gave the opposing team a free kick. Therefore the rules had been compromised. This time they weren't. It was a judgment error on the part of the officiating crew.
So, onto the barking and the wrong tree. Ireland should use this opportunity to call for union between football federations around the world in a call for technology in football. This is a perfect time to have one voice in favor of using video replays. At a time when fans around the world have the chance to see every play from 10 different angles, it seems silly that the only man who doesn't have this benefit is the referee.
To their credit, UEFA have started experimenting with five referees, but even they have already made basic mistakes. At a recent Europa League match between Fulham and Roma, they sent off the wrong player after a foul in the area.
So Ireland, take this one on the chin, and take one for the team. You're not going to get a replay, so re-direct your energy towards uniting football federations to change the way the game is played. Is it fair? No. But focus your attention on a battle for a clearer and brighter future in football.