A "human typhoon" is how one commentator described Manny Pacquiao's demolition of former welterweight champion Miguel Cotto in Las Vegas on Saturday, where, akin to the seasonal storms that have battered his Philippines' homeland recently, the Pac-man rained down powerful punches on his Puerto Rican opponent in a manner that left devastation in the ring.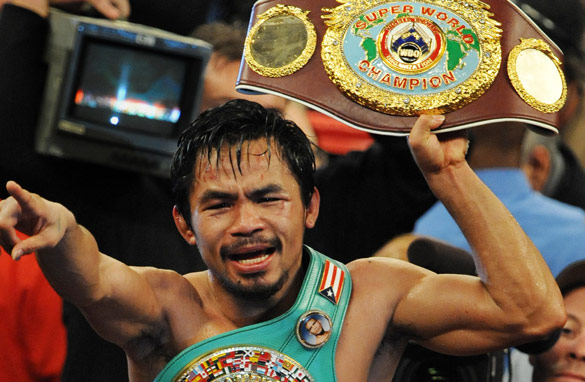 Pacquiao -- the greatest?
Pacquiao has long been revered for his speed, stamina and range of hits, but under the lights of the MGM Grand Garden Arena, the man from Kibawe entered the pantheon of greats with his WBO-title victory.
The win was impressive for a number of reasons. Firstly, Pacquiao was fighting at welterweight for only the second time in his career. There are always doubts whether the strength to win can be maintained when a fighter moves up the weight divisions, so it was remarkable that a man who has gone from super featherweight to welterweight in two years - and who has now fought at nine different weight divisions having started as a light-flyweight - not only had the harder punches, but absorbed the onslaught of a bigger man so easily.
There have been greats who have been multi-weight champions before too (Sugar Ray Leonard, Oscar De La Hoya, Thomas Hearns and Floyd Mayweather), but Pacquiao now has seven world titles to his name - if IBO and Ring magazine belts are included - a mark that beats the record of six set by De La Hoya.
The 30-year-old, who was born in poverty, has also captured his glory the hard way. The twelfth-round stoppage against Cotto gave the world's best pound-for-pound boxer a career record of 50 wins, three defeats and two draws - 55 fights in total. Compare this number of grueling bouts to Mayweather's 40 undefeated, De La Hoya's 45 career fights, Joe Frazier's 37 bouts, Lennox Lewis's 44 or Leonard's 40.
Not only has Pacquiao fought and beaten the best around - including Marco Antonio Barrera, Erik Morales, Juan Manuel Marquez and ending De La Hoya's career - he has endured a greater number of fights than many of his peers.
Bob Arum, a man who has managed some of the biggest names in boxing over the last forty years told reporters: "I've promoted Muhammad Ali, Sugar Ray Leonard, Marvin Hagler, and Manny Pacquiao is the best fighter I have ever seen."
A sentiment that Pacquiao's trainer Freddie Roach agreed with: "Compared to all those names, he's as good as any of them. He's the greatest fighter of his era, for sure. 100 percent."
Like Ali, Pacquiao too has a popularity that transcends his sport. His story of rags to riches has captured the imagination of a legion of fans around the world, he was the first Filipino athlete to appear on a postage stamp and was named as one of the world's most influential people of 2009 by Time Magazine. He also has a keen interest in politics, a passion that should see him run successfully for congress in the Philippines in 2010. If the fight with Floyd Mayweather happens it is expected to be the highest grossing of all-time.
The title of "great" is often used cheaply, but with Pacquiao it is richly deserved.