The 2009 re-run of David versus Goliath may not have included the slingshot prop of the biblical bout, but the Russian world heavyweight champion, Nikolai Valuev, was felled using the same approach as that which downed the talismanic Philistine: brains outwitted brawn.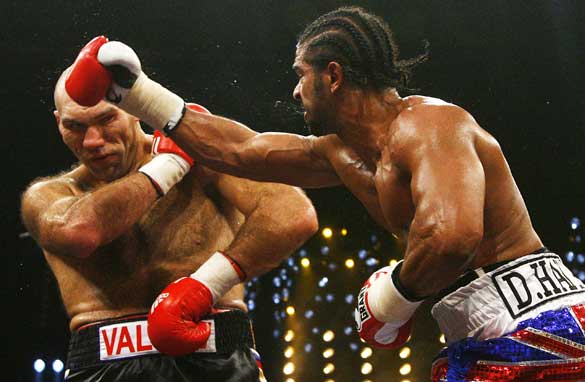 Haye stuck to his game-plan in defeating the one-dimensional Valuev.
David Haye gave away more than seven stone to WBA titleholder Valuev, but though much had been made of the difference in bulk between the two boxers beforehand, when fight-night came, challenger's game-plan ensured he became the first British heavyweight champion since Lennox Lewis with ease.
Comfortable and relaxed from first bell to last, it is even more remarkable and demonstrative of the rising star of Haye that the former cruiserweight champion secured a points win with a right hand that had been broken in the second round.
Valuev's technique was shown to be slow and one-dimensional. Though the 36-year-old had a fearsome reputation, his straight left jab was his only means of meaningful attack, and when Haye showed that pinning him down with such a blunt instrument would be like trapping oil with a colander, Valuev was left stumped and without a plan B.
The 29-year-old Haye was so effective at avoiding the line of attack from the "Beast from the East" that Valuev was left groping the shadows and spaces the Londoner's lean shape had left in the air prior to moving, a recurring event that morphed the aura of Valuev from fearsome colossus to bemused behemoth in a matter of rounds.
Haye stuck to the script - to hit and not be hit - slipping and sliding around the slow-motion Russian before returning fire with well-placed hooks and humdingers. Prior to the fight, much of the talk was whether Haye would be able to go the distance if required, but in truth the Briton finished with energy to spare, saving the most bombastic combination for round 12.
If fights were still fought over 15 rounds, it was hard to see any other outcome than more punishment for the now lumbering giant, Haye's lifetime dream was minutes away from being realized.
Once crowned, Haye admitted the bout had gone as he had hoped: "I had to make him miss so much that he started thinking twice about what he was going to throw. Once that happened it gave me more room to do my thing."
Haye must face America's John Ruiz in the mandatory defense of his newly-acquired crown for his next fight, but Vitali Klitschko (the WBC champion) has already said that, if Haye comes through unscathed, he is keen to fight to unite the belts.
The victory secured in Nuremburg, Germany may ultimately only prove the first step in a career that will see the unification of the belts by a personality that could light up a division bereft of bums-on-seats characters, but if nothing else it proved once again that the little man can triumph over seemingly unbelievable odds with a little bit of thought.