The New York Yankees are one of those teams that fans love to hate. You either love the Yankees or you hate them, rarely is there middle ground. Winning the 27th World Series title in franchise history has given the "lovers" of this storied Major League Baseball club reason to smile and the "haters" even more ammunition!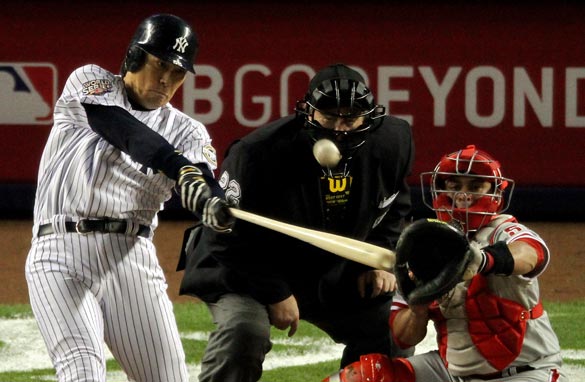 Hideki Matsui led the Yankees to a World Series victory which was closely followed in his native Japan.
But there's something that the Yankees have done that can be lauded by even the so-called "haters": they've helped make the very American sport of baseball become even more of a global game.
Nine of the World Series-winning players on the New York roster were born outside of the United States. The list is fronted by Hideki Matsui, the first Japan-born player to win the World Series' Most Valuable Player award.
Matsui came to the Yankees as a superstar in his native land, a winner of three titles in Japan. But what he did on the game's biggest stage was simple remarkable. His batting average in the World Series was .615 and he was 8-for-13 at the plate with three home runs and eight runs batted in. Through a translator, Matsui said that he amazed himself: "It's awesome. Unbelievable."
Millions of baseball fans in Japan watched Matsui's heroics. They tuned in at home, in offices, in bars and restaurants, and many even filled downtown Tokyo electronics stores to check out the World Series clinching game. The word "proud" was used time and time again when Japanese baseball fans spoke of the historic performance of their native son.
Asia has always been a hot bed of baseball talent, with Japan feeding the Major Leagues with a number of mouth-watering prospects. Taiwan is now considered an up and coming, talent-rich nation in the region. Of course, Latin America's contributions to the Major League landscape can not be overstated and now Europe may even be getting in on the mix! This past summer, one Major League team even signed a prospect who calls Germany home. Sure, football will always be king in many parts of the globe, but it's good to see a sport that I grew up with making major inroads outside of North America.
Forbes magazine has listed the New York Yankees as the fifth most valuable sports franchise in the world. Don't be surprised if you see Yankees hats and shirts in places where baseball is still a curiosity. After all, who doesn't want to count themselves as being associated with a winner? Okay, I'm sure the world's Yankees Haters will take a pass!