Any thoughts we may have had that Manchester United's Alex Ferguson might just be a little more conciliatory after a recent brush with English football's hierarchy over criticism of referees have very quickly proved to be misguided.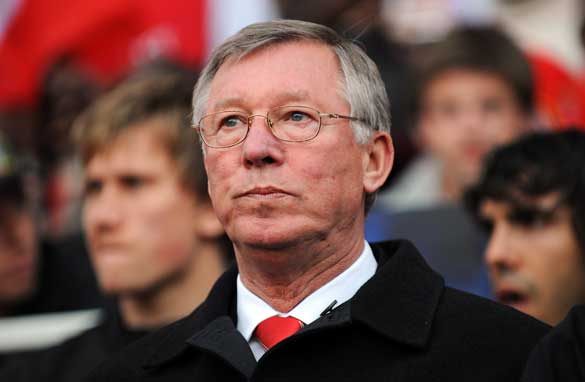 Ferguson still makes sure not to pull any punches when dealing with the football authorities.
Just minutes after his team's thrilling Champions League draw with Russia's CSKA Moscow on Tuesday, the fiery Scot was at it again only this time I have to say he was well justified in his viewpoint.
Fergie, lamenting the fact his men were denied a blatant penalty for a foul on midfielder Darren Fletcher, told post- match reporters that he simply couldn't believe the decision, describing it as "one of the worst I've seen in my lifetime".
Now how's that for damping things down!
But for me this latest spat only goes to prove the veteran coach's appetite for the game is as fervent as ever.
Sir Bobby's advice
The footballing community recently witnessed an emotional farewell to another legendary manager, Sir Bobby Robson.
They came from far and wide to pay tribute to a man who's left an indelible mark on the game he loved. Among those gathered was another of the game's true giants and another "Sir" to boot. That man Ferguson!
There was nothing especially noteworthy about the fact the Scot was at that memorial service in the north- east of England in late September. After all, the great and the good of the football world were all pretty much in attendance. It was more really the little snippet of information Fergie let slip while there that intrigued me.
Remember when he was originally due to retire back in 2001 two seasons after delivering United's first European cup title since 1968? Contrary to popular belief that it may have been his wife Cathy who talked him out of it, the United chief revealed it was in fact Sir Bobby who had a major bearing on his decision. The former England head coach made it quite clear he felt Ferguson was leaving the game far too early.
Once that opinion had been registered, the Scot needed no further reflections. And, as they say, the rest is history. Eight seasons on and one of the sport's most successful managers is still going strong. And how!
Since 1986 he has ruled the roost at Old Trafford, and it's quite clear the passion still burns as brightly as ever. Just witness those frantic last-gasp celebrations when a jubilant Fergie punched the air with glee as United scored the game-winner against a shell-shocked Manchester City recently, scenes hardly in keeping with someone who's not a million miles away from his 70th birthday!
I recall going into the match Sir Alex somewhat demeaningly said that his club's "true" derby was against Liverpool. That's the clash most fans truly relish he added. While there's doubtless plenty of truth to that, judging by the way he danced a jig of joy on the pitch, the fiery Scotsman still keeps plenty in reserve for victories over Mark Hughes' money- laden City.
I personally thought Ferguson would have been strongly tempted to call it quits had his team beaten Barcelona in last season's European Cup final in Italy's magnificent capital city Rome. Indeed, I'm sure he's privately well aware that had his men scored in those opening ten minutes which they dominated, they would surely have gone on to victory against the Catalans.
As it turned out, Barca re-grouped and went on to take control before winning fairly comfortably and that's just one reason I feel the United manager will be around for some time to come. I've got a sneaking feeling, Sir Bobby would have it no other way!