Arsenal are flying. They haven't lost since early September – a run of eleven matches – and if they win their game in hand Arsene Wenger's side will be second in England's Premier League.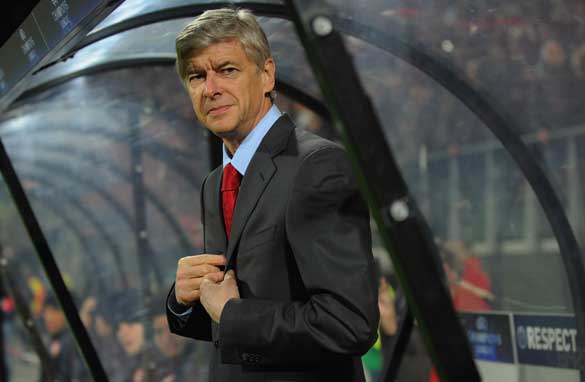 Wenger's Arsenal have started the season brightly but doubts persist over the Gunners' long term prospects.
However, even admirers of the Arsenal manager – and I count myself among them – can't shake a nagging concern.
Is Arsene Wenger's obsession with beautiful football masking an ugly neglect for winning titles?
I know. I know. That sounds like one of Carrie's diary entries from "Sex & The City" but you don't have to be an Arsenal fan to have a crush on Wenger's young Gunners. Their silky skills and pretty passing can set pulses racing and hearts fluttering.
But the coach who once talked about the metaphorical "prettiest wife at home" must know the best romances are marked with permanent reminders. After four trophy-less seasons, the Arsenal groupies want something to show for their courtship.
In an exclusive interview for CNN, Wenger told me that it was the intelligence of his players which made him confident Arsenal can win the Premier League. He said, "I believe that we have a fair and true chance."
However, the biggest strengths of his team – its youthful exuberance and technical ability – is also its biggest weakness. The average age of Arsenal's squad is 23.3, more than a year younger than any other in the Premier League and more than five years younger than the oldest squads. But how often does the youngest squad top the table?
Arsenal's youth system has been prolific in recent seasons but Wenger has been forced to trust it because the club want to pay off the debt from their new stadium before they splash out on star names.
They have signed experienced players. Andrei Arshavin and Thomas Vermaelen both look like good signings and neither were particularly cheap. But over the same period Wenger sold Kolo Toure and Emmanuel Adebayor.
In the five years up to the end of the 2007/8 season, Arsenal's net spending (transfer money spent minus transfer money received) was $60 million versus $730 million by Chelsea, $208 million by Liverpool and $157 million by Manchester United.[1]
Those figures prove there is an element of genius about Wenger's work. He is a master at delivering a lot for very little. Surely, though, now is the time for Arsenal to win a major competition instead of merely illuminating it with their brilliant brand of football.
The longer the wait for another trophy goes on, the stronger the argument that Arsenal's professor is more of a mad scientist.
---
[1]
Deloitte Annual Review of Football Finance, June 2009.