To spit or not to spit. That is the question in the Premier League right now, where the appearance of swine flu among the players and staff of Blackburn, Manchester City, and Bolton, and the potential for spreading the H1N1 virus by gobbing on the pitch during games has Britain's Health Protection agency salivating with rage.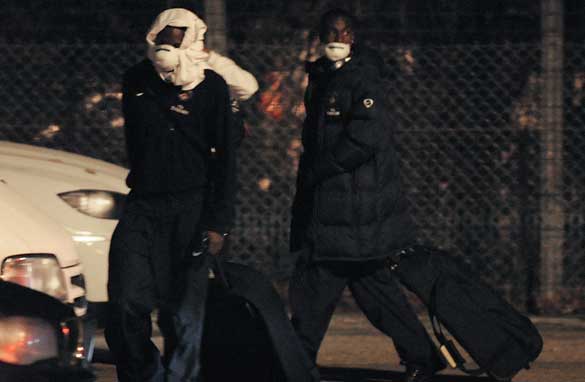 Masked Paris Saint-Germain players head home after an inter-squad outbreak of swine flu causes their game with Marseille to be postponed.
"Spitting is disgusting at all times." said an HPA spokesman. "Footballers, like the rest of us, wouldn't spit indoors so they shouldn't do it on the football pitch."
A keen observation indeed. I can't remember the last time I hawked up on the carpet. But then the most physical activity I resort to in the living room is reaching for the nachos while I'm watching a game, so the demand to expectorate (the technical term for spitting), is not really there.
When I played the game I spat though. We all did. It was the natural reaction to a lung-busting surge up the wing, a 40-yard track back for a last ditch tackle or a dodgy decision by the ref (you could spit in dissent in my heyday without getting a yellow card because yellow cards hadn't been invented). Better out than in, that was the motto back then, and we thought no more of spreading disease via a loogey than we did of Chelsea winning the league title - it just wasn't going to happen.
But, of course, times have changed. Chelsea now have a couple of Premiership crowns in the cabinet, and the fluid nature of the game is giving the medics cause for concern. Never mind that managers such as Mark Hughes of Manchester City have dismissed the threat posed to footballers from the virus as trivial due to their heightened level of fitness. No matter that Chelsea boss Carlo Ancellotti appears to believe that hot milk and red wine are an adequate substitute for the H1N1 vaccine. The fact remains that those with even greater medical knowledge than Sparky and the Italian bon vivant are adamant - phlegm kills, or at least can make you very sick.
Of course, that's no laughing matter. So what is the EPL going to do about it? Well, they can discourage spitting, but they can't really make it an offence because it's so ubiquitous in football that you'd end up with 22 yellow and red cards every game ... or maybe they ought to introduce a green card!
They could postpone matches involving clubs where swine flu has been diagnosed, but they've already said they won't do that (a measure derided as "irresponsible" by Blackburn boss Sam Allardyce.)
They could make players wear masks, (which sounded silly until I saw Mario Balotelli of Inter Milan playing with what looked like a scarf round his neck, at which point I realized anything goes.)
In fact, I'm sure greater minds than mine could come up with a myriad of measures to reduce the risks. But, in the end, a lot of it will surely come down to luck. Because, despite its air of invincibility, football is as powerless as the rest of us to halt the spread of the virus. So I ask you - will a few gobs of spit make a significant difference?