Most football fans in the UK don't rate Emmanuel Adebayor as a person.
Many consider the Togolese striker to be a mercenary who signed for Manchester City just for the money.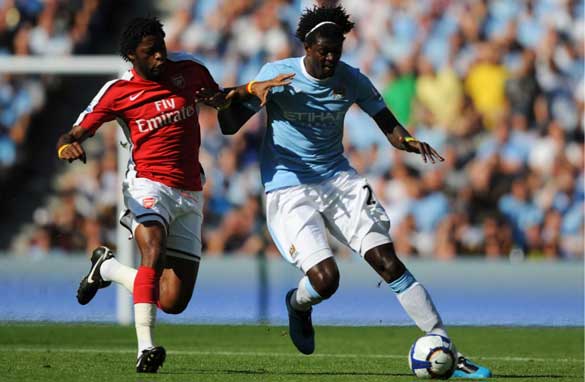 Adebayor is challenged by former team-mate Alexandre Song.
His actions in a recent Premier League game against his former employers did not do him any favors either.
Adebayor provoked Arsenal fans by effusively celebrating a goal scored against them, and also kicked out at Robin Van Persie, later receiving a three-match ban.
Now as we know and should never forget, there are always two sides of the story. I had a chance to hear Emmanuel's version of events last week during an interview in Manchester.
The first impression I got was that he was genuinely hurt by the way Arsenal treated him in the summer.
When Arsene Wenger told him he wouldn't play this season and that the club had agreed to sell him to Manchester City, initially he didn't want to leave.
He felt unwanted and under-appreciated. Following a couple of meetings with City representatives Adebayor was eventually persuaded that the club had high ambitions and that he would be a big part of them.
That is when he agreed to go. Not for the money, but because he felt wanted.
As far as the game with Arsenal is concerned, Emmanuel told me about how Arsenal players did not want to shake his hand in the tunnel and how their fans sang about his family.
How they insulted his mother and father, the people that always meant everything to him. He regretted his goal celebration, but said it was the only way he had to reply to the supporters.
He also apologized to Van Persie and wishes he had never kicked out at his former teammate.
Adebayor knows he made mistakes. He just wants a second chance. Every person deserves that.