Andre Agassi's revelation that he took crystal meth in 1997 was shocking, yes, but it won't tarnish his legacy.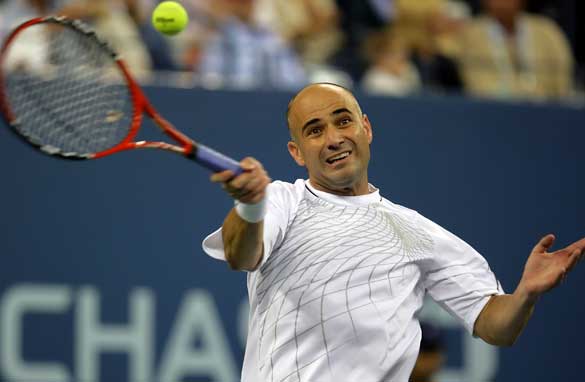 Agassi's achievements will not be tarnished by his autobiography's revelation.
When you think of Agassi, do you remember the hairy pony-tailed youngster who was ranked 141st in the world, or does the bald happily married father-of-two come to mind? A man who won eight grand slam titles, the rare career grand slam, who made THAT speech at the U.S Open, and who has done more off court than he even did on it?
I suspect it's the latter.
Agassi always had the look of a tortured genius in his younger days. He was brilliant, yet inconsistent. He hated the grass of Wimbledon, yet fell in love with it after ironically winning his first major title there in '92. He became the closest thing to a tennis Hollywood superstar by marrying actress Brooke Shields, and then fell into relative obscurity with an alarming slump in form. We now know why.
That could have marked the end of his career, instead it was just the beginning. He has done for tennis, what only few others have managed, and I for one, am prepared to look past his former misdemeanors. Can you?
What is worrying about the revelation is how easily he appears to have got away with a positive drugs test. One now wonders who else has drug skeletons in their closets.
Looking Ahead
Though the year-end ranking rather fell in her lap, Serena Williams is the rightful world number one.
 By winning two grand slams this year she has proved she's the best female player in the world, and even accounting for her bizarre outburst in New York, we tennis fans must thank Serena for what really could have been a blah year on the whole for women's tennis.
Whether she'll be at the summit next year remains to be seen. Justine Henin and Kim Clijsters's return make the prospect of 2010 an exciting one, and provided she's fit, Maria Sharapova will surely also be in the mix.
Talking of next year, there'll be far fewer Marat Safin soundbites to enjoy. He retires having won two grand slam titles but arguably not living up to his massive potential. Still though, the fiery Russian provided us with plenty of entertainment over the years and will definitely be missed. I suspect he won't miss us too much in return!