What was Andre Agassi thinking? Just three years ago he retires as a sporting legend, one of the greatest tennis players of all time and a role model for the next generation of professionals.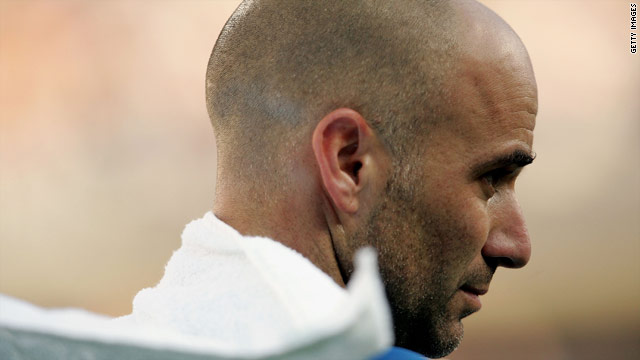 Andre Agassi's legacy could be severely tarnished following his recent drug-taking revelations.
He's married to sexy Steffi Graf and they have two children – a boy and a girl. They have no financial worries and, to many of us, it seems like the perfect lifestyle.
So why confess that, twelve years ago, you regularly snorted an illegal drug and then lied to the tennis authorities about it?
Agassi made it clear that he was happy for the world to hear the whole story after an exhibition match in Macau this weekend, but I think he'll be less excited about the reaction from tennis fans and the wider public.
Glancing through internet forums and social networking sites it is clear that genuine shock has been created by the news.
It's significant the admission has come in Agassi's autobiography, released in time for the lucrative Christmas market. It is hard to claim that you are simply coming clean while charging fans to read that truth.
The excerpt was published in a British newspaper alongside stories about how tough Agassi's father had been on him. However, the American may find sympathy hard to come by.
He writes that he took crystal meth because he was "in a bad way". There he was, sitting in his luxurious Las Vegas house, a famous and wealthy sportsman, less than a year after winning Olympic gold and shortly before marrying beautiful actress Brooke Shields. Yeah, tough life.
Agassi is currently an ambassador for luxury watchmaker Longines and the company has told CNN they will stick by him. They admire his honesty and say we all make mistakes.
While that is true, Agassi's lapse wasn't a one-off. He continued taking the drug for many months and then lied to the ATP when he tested positive. He told the tour that he had accidentally ingested the narcotic after drinking from a spiked drink belonging to his assistant.
With hindsight, although the ATP followed the correct procedure of investigation concerning the incident, how can we have faith in a system that Agassi managed to circumvent with such ease? Possibly, like the rest of Agassi's admirers – until now – they couldn't believe such a respected player would make such a big mistake.
No doubt the ATP will be watching the reaction to Agassi's revelations carefully. While we have all been jaded by the quantity of drugs in sport stories this one may yet gain some momentum.
If Agassi had admitted his drug use at the time he was facing a three month ban. Instead, he played on. Unsuccessfully. He slumped to his worst ever ranking of 141 in the world – but he still won matches and had an impact on fellow players' careers while receiving artificial and illegal stimulation.
Should Agassi repay prize money? Or compensate tournament sponsors?
However, it is equally likely the controversy will quickly die down. If that happens it would just be another step along the road to Apathy City – where we stop caring whether or not our sporting heroes are on the straight and narrow.