By one of those strange coincidences that happen so often in sport, both Valentino Rossi and Sebastien Loeb wrapped up their respective world titles on the same day, making no mistake with the sort of assured performances which have marked their remarkable careers.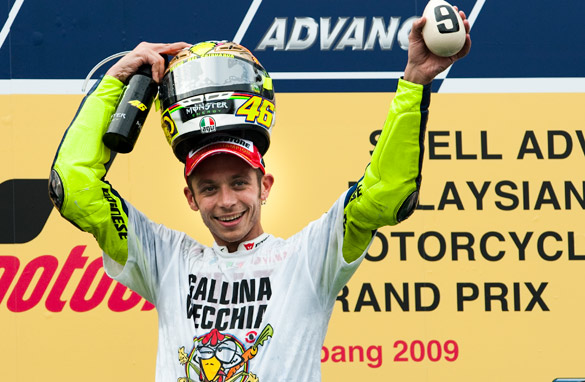 Rossi celebrates completing the ninth world title victory of his career.
MotoGP ace Rossi was winning his seventh title in motorcycling's premier class and his second in succession, Loeb made it sixth straight world rallying crowns, an all-time record.
Both had to endure significant challenges during the course of the season, Loeb from Ford Focus ace Mikko Hirvonen, Rossi from his Yamaha teammate Jorge Lorenzo.
And both showed their incredible winning mentality when it mattered the most, with Loeb having to relegate Hirvonen to second place in the season-ending Wales Rally GB to leapfrog the Finn in the final standings.
Rossi wrapped up his title with a race to spare, needing to finish fourth in Sepang to clinch it, he claimed the final podium spot behind Australian Casey Stoner, keepng Lorenzo one place behind him.
It is a feature of great champions that when the question is asked they come up with the answer and both Rossi and Loeb have solved puzzles a plenty to stay at the top.
But are they the greatest of all-time in their respective sports ?
Statistically, Loeb has few peers, with his 54 wins a world rally record, but questions have to be asked about the overall competitiveness of the championship in recent years with this year's title race effectively a two-horse race between the Citroen and Ford teams.
Rallying fans may well point to the merits of the great Finns Tommi Makinen, Juha Kankunen and Marcus Gronholm while Spain's Carlos Sainz had few peers. Throw into the mix the late and much-missed flying Scot Colin McRae and there is room for much-debate.
Who do you think is the greatest rally driver of all time ?
In the same vein, Rossi has been a winning machine with nine world championships from 125 cc to MotoGP, but his fellow-Italian Giacomo Agostini is the all-time record holder with 122 grand prix wins and 15 world championships.
Australian Mick Doohan won five successive world 500cc championships and was totally dominant in the 1990s, while flamboyant British ace Mike Hailwood
won world titles and TT races on the Isle of Man at will during his incredible career.
So who is the ultimate maestro on two wheels ?