Just when the critics were writing them off, Liverpool produced a performance of such passion and intensity it left defending English Premier League champions Manchester United looking very much second best.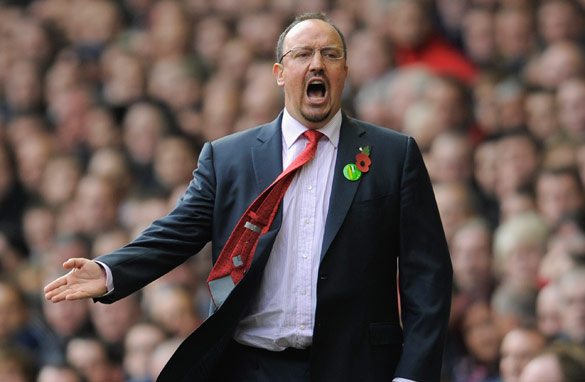 A fired up Benitez inspired his men to a superb win over Manchester United.
The 2-0 scoreline at Anfield did not flatter Rafa Benitez's battlers who were desperate to avoid a fifth straight defeat which would have left the Spaniard staring down the barrel.
For sure, United can feel a little hard done by that Jamie Carragher was not dismissed for cynically pulling back his old teammate Michael Owen as he chased a late equalizer, but they did not deserve a share of the spoils after a lackluster display.
Going into the match, all the questions were over Liverpool's supposed frailties and over-reliance on Steven Gerrard and the magnificent Fernando Torres.
By the finish, United's own weaknesses were exposed, with the below-par form of Rio Ferdinand, exposed for the Torres opener for Liverpool, and their over-reliance on Wayne Rooney, who for once looked off the pace and received little support from Dimitar Berbatov.
Only the late introduction of Owen, who set up Antonio Valencia for a shot which thumped the crossbar, gave edge to their attack and the departures of Cristiano Ronaldo and Carlos Tevez may well be a factor by season's end.
Liverpool could even do without the injured Gerrard but with inspired by their fanatical fans, rightly described by Benitez as their "12th man" showed enough to suggest that they will be a factor in the title race.
And what a title race we have in prospect, surely the most open for many seasons?
Chelsea have taken advantage to lead the standings after 10 rounds, but United will not give up their crown easily while Arsenal are looking a growing threat.
Liverpool are established members of the top four, but throw into the mix the financial muscle of Manchester City and the nuisance value of the likes of Tottenham Hotspur and Aston Villa and it has all the ingredients of a classic season.
Who do you think will emerge as the Premier League top dogs come next May ?