I recently made a trip to Madrid to interview several of Real's players and club president Florentino Perez. All of them talked about how expectations were raised this season because of the investment made over the summer. Perez especially stressed the importance of the club becoming a contender for the Champions League title, a competition they haven't won since 2000.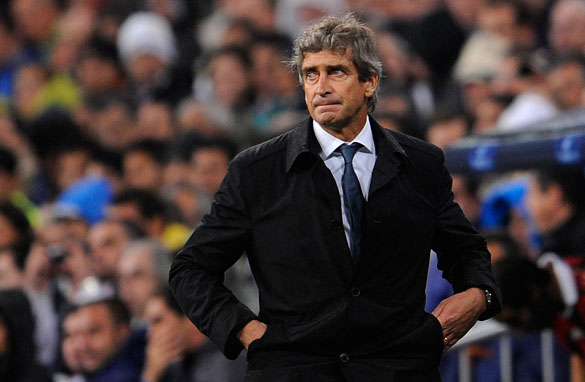 Manuel Pellegrini is under pressure to remedy Real Madrid's recent shortcomings.
Well, they didn't look like contenders on Wednesday night, did they? Real lost to a Milan team which had won just three of nine games this season and whose first XI would have been great five years ago but now, honestly, looks like largely like a group of has-beens. The average age of the side Leonardo sent out at the Bernabeu was 30.8.
Now the excuses have already started rolling out of the Bernabeu. After the defeat to Milan, coach Manuel Pellegrini said he needed time to build his team. He added that he thought the game wasn't that bad. Well, the press thought otherwise and in response to that comment, Marca asked, on its front page, "What game were you watching?"
It may be too early for alarm bells, but Pellegrini won't get much time to get it right. I can guarantee that. In his last stint as Real president, Florentino had six managers in six years. He expects the best, always, and has no problems pulling the trigger when it comes to firing coaches.
So what is going wrong? For starters, the defense isn't good enough. Pepe is and has always been overrated, so much so that with Portugal he doesn't even play at center-back sometimes - Carlos Queiroz uses him in midfield. His heading is poor and his concentration erratic. Neither Marcelo nor Drenthe are great left-backs. They are both great at going forward, but don't have the necessary discipline to track back everytime the team loses possession. Sergio Ramos is OK but I still think he is better as a center-back than a right-back. Raul Albiol is solid, but not the leader the Real backline needs.
In other words, I expect Real to concede bags of goals this season. They will score them too, but Pellegrini might need to think about playing with two defensive midfielders to protect a shaky defence. This means Kaka could be forced into a wide position. Curiously, Madrid had a similar problem during the first instalment of the Galacticos. Zinedine Zidane had to be dragged out to the left so the manager could fit all his stars in the team, while at the same time ensuring some solidity in the center of the park.
Over to you, Mr. Pellegrini. Maybe you can convince Florentino to buy a world-class defender in January. If you make it that far...