The knives are firmly being sharpened for Liverpool manager Rafael Benitez at the moment with the English Premier League giants in the middle of a nightmare period both on and off the pitch.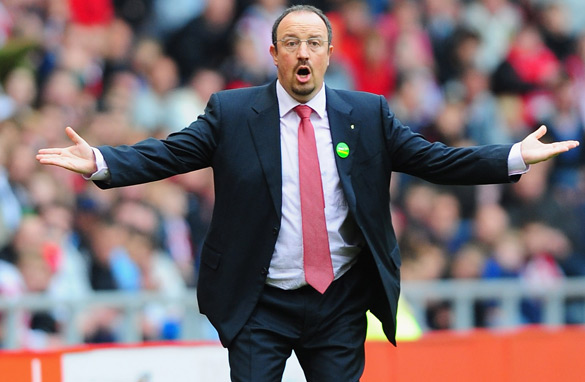 Rafael Benitez has looked an increasingly desperate figure on the touchline this season.
Liverpool go into Sunday's home clash against Manchester United in their worse run since 1987 – and four defeats in a row could easily become five should the Reds lose to their bitter rivals, a scenario not witnessed at Anfield for 56 years.
The glory days of that remarkable Champions League triumph in 2005 seem a distance away for Benitez and the Spaniard's body language has become more and more agitated and irritable as a crippling injury list, loss of form from experienced players and new-found defensive uncertainty have all combined to give Liverpool a distinctly fragile appearance in recent weeks.
Suddenly every aspect of the club is being scrutinized, from the continued boardroom travails involving unpopular American owners Tom Hicks and George Gillett to Benitez's transfer policy which has seen him sign over 70 players since taking charge of the club five years ago.
Benitez has moaned about his squad size in recent weeks but, from where I am looking, the Liverpool squad appears as big, if not bigger, than most of their rivals' squads.
Size is not the issue, quality is, and it is my firm belief that Benitez only has himself to blame for the current mess his club are in.
The accusation that Liverpool rely too heavily on superstars Fernando Torres and Steven Gerrard is true, but it is nonsense to say they are the only class players at Benitez's disposal.
The likes of Yossi Benayoun, Javier Mascherano, Albert Reira, Daniel Agger, Jamie Carragher, Glen Johnson and Pepe Reina are all top quality, but the truth is the second tier of players are simply not good enough.
Who scores the goals when Torres is absent?...David Ngog?..Andrei Voronin?...How the Liverpool faithful must yearn for Robbie Keane, Peter Crouch or Emile Heskey, all experienced Premier League strikers jettisoned by Benitez.
Who provides the creativity in midfield following the sale of Xabi Alonso?...Lucas? or will the still injured Alberto Aquilani provide the spark so sadly lacking when he eventually makes his debut?
And who plays in the full-back positions?..Glen Johnson?, Fabio Aurelio?, Philip Degen? Andrea Dossena? Martin Kelly? Emiliano Insua? Jamie Carragher?...How many full-backs does a club need?
I do not expect Liverpool to beat United on Sunday, although a draw might be enough to instil some much-needed confidence…
Either way, they have already lost four league games, double last year's total, and their title hopes will be extinguished should defeat number five occur at the weekend…
Is Benitez's job safe?...For the moment he won't be going, especially as the ink on a lucrative recent five-year contract is barely dry..
But if Liverpool fail to finish in the top four, don't expect the dour Spaniard to be at the helm next season, and, you know what, he'll only have himself to blame.