On the surface, it may seem a strange decision by the South Africa Football Association (SAFA), to sack the coach of their national football team just eight months short of hosting a World Cup.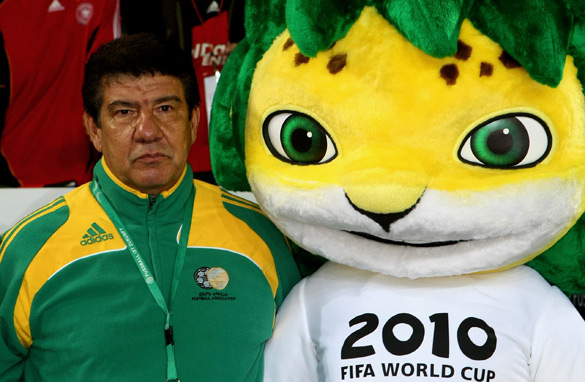 A glum-looking Santana contemplates his World Cup fate with mascot Zakumi
Is now really the time to unsettle a team under pressure with the replacement of their leader? The answer is clear, but the context is all-important.
The significance of Africa staging an international tournament of such magnitude for the first time needs no restating, but among the greater concerns for local organizers and FIFA alike - on top of anxieties regarding security, accommodation and transportation - is the performance of the host side South Africa.
The momentum and ultimate success of such events rely on a groundswell of domestic support.  Without captivating the attention of the indigenous population - whether in South Korea and Japan, as in 2002, or the United States in 1990 -  there is a fear that games will be played to half-empty stadiums devoid of atmosphere and drama.
Aside from such a potentially embarrassing back-drop for sponsors and traveling fans alike, the financial implications of an early exit of Bafana Bafana could deprive a nation of an important focus for national unity.
Who can forget how the victory of the Springbok rugby team, who won the oval-balled version of the World Cup as hosts in 1995, affected a South Africa emerging from an era of apartheid?
Engagement with the tournament by those living in South Africa then, is a high priority - and the best way to ensure this is for the home side not to get knocked out early.
Unfortunately, for Joel Santana, there was too much riding on his capabilities and perceived under performance as a coach to let his tenure continue any further.
Despite a good showing at the recent Confederations Cup, under the Brazilian's leadership South Africa have dropped to their lowest world rank since 1994 (they are currently 85th).
In a squad where first-class talent is scarce, Santana's inability to coerce all-time record goalscorer Benni McCarthy back to the national cause could be seen as a crucial failure, his team were also accused of playing overly defensive football in an attempt to get results. The potential of pulse-racing performances come the World Cup seemed a distinct outside bet.
In 27 matches in-charge the 60-year-old was defeated 14 times, a statistic that would always have hacks sharpening their pencils considering his monthly wage of $175,000.
What backing remained vanished when eight defeats from his last nine games was followed by ill-judged comments to the press that he had "not been hired to win friendly fixtures." Maybe not, but why not inspire confidence with a win or two?
Santana may have also been wise to look at the history of his employers on accepting his first international coaching role. SAFA are no strangers to making bold decisions in the build up to major competitions: both former bosses Clive Barker and Carlos Queiroz were given the boot just months before the 1998 and 2002 tournaments respectively.
Santana had to go, but the question remains who will replace him? Whoever does takeover the reins of South Africa, the fans of Bafana Bafana will be hoping the drama off the pitch can be replaced with drama on the pitch come June.