I have to fess up. Sport is not my thing.
I don't mind watching baseball or cricket, even the occasional game of rugby or American football. So it's no surprise that my interview with Rafael Nadal was not something I was looking forward to.
To get a sense of what I was in for, the day before our one on one, I sat in on Nadal's media conference that all tennis players on the ATP have to endure. He seemed unhappy, really unhappy.
Short answers and mildly annoyed at the questions (to be fair some of the questions seemed annoying to me as well).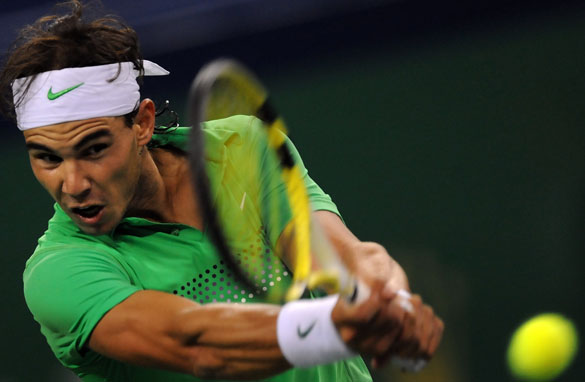 Rafael Nadal in action at the Shanghai Masters.
The next day, after much back and forth with the PR people, we were given the go ahead to set up on a practice court, Rafa as they call him, would be ready at 2.30pm.
We were told 30 minutes, and he doesn't really like talking about his injuries, personal matters too, and while not off limits, they would probably make him clam up. Oh and he struggles in English, because it's not his first language.
Just great – a thirty minute sit down, with one of the world's best tennis players and it was shaping as a bit of a yes no kind of thing, with not much to talk about.
I have to admit, I have a dislike for interviewing sportsman. It comes from my days as a sports reporter, twenty years ago.
When I failed to know how many times Laurie Daley of the Canberra Raiders had a degenerated disc, or Ricky Stewart hurt his groin, I was ostracized by my fellow journalists which may explain why I prefer Gaza to Old Trafford.
So there we were – two camera crews, me and my producer cooling our heels on court number 9. Two thirty came and went and no sign of "Rafa".
His fans had started turning up, hoping for a glimpse. As the time went by, I was thinking perhaps they were being overly optimistic. Finally he showed up, almost an hour late – I was already getting my excuses ready about how this show wouldn't work, and couldn't the get some previous episode with an Indian actor out of the library?
So, I asked my first question and it wasn't a disaster. I had a sense that Rafa didn't really understand everything that I was asking, but to his credit, he just kept on talking – powering through much like he does on the tennis court.
Another and another, and while at first he seemed a little shy and uneasy, by the end, a good 45 minutes later, he had shared some very interesting and personal details.
What were they you ask? You'll have to watch the show to find out.