With the line-up for the World Cup nearly complete, the discussion has begun among fans and media in the qualified nations as to who should go to the finals and who should miss out.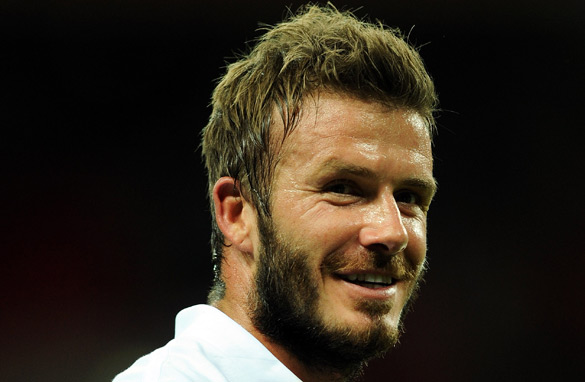 David Beckham still has a major role to play in England's bid to win the 2010 World Cup.
Top of that debating list are two superstars whose careers have transcended the game itself - Diego Maradona and David Beckham.
Let's discuss Diego first. Should he lead Argentina in 2010 as manager, or will his lack of tactical nous be a liability to the Albicelestes in South Africa? Well, in my view, the answers are yes and yes.
When you hire Diego Maradona as manager, you get a football genius with a maverick personality who will do things his way or not at all.
No matter that he's got no coaching pedigree or credentials, the Argentine Football Association decided that the risk was worth taking, so he got the job.
What followed in the qualifiers was what you'd expect from Diego, a rollercoaster ride that ultimately ended in success, as befits a rebel who consistently comes up smelling of roses.
You see, that's the thing with Maradona, nothing he's ever done has been conventional, yet he's still among the most decorated and revered figures in football.
Look at the way he was as a player. A consummate ball hog who won games and titles, including the 1986 World Cup, virtually on his own!
Nobody would or could coach someone to play like that, because next to nobody would have the talent to make it work. Yet Diego did.
His self-confidence has taken him far. Add to that his passion and god-like charisma, and you can see why the Argentine FA is happy to take a punt despite the obvious risks of failure.
World Cups are not always won by the best team, but by the team with most flair, and Diego's death-or-glory methods might at least give Argentina a shot.
While you expect the unexpected with Maradona, the reverse is true of David Beckham.
Here is Becks in a nutshell: a world-class crosser of the ball and dead-ball genius; a team player willing to play a defined role to orders; a patriotic whole-hearted competitor; a thoroughbred who's now a bit of a carthorse; and a talismanic figure whose mere presence in the squad can inspire others to perform.
And, for me, the latter is the crux of the matter, and the main reason why Fabio Capello should put him on the plane to South Africa.
The World Cup is a long haul, and when a team needs lifting before, during or after a game, a seasoned veteran like 34-year-old Beckham can be invaluable.
That's why Marcelo Lippi is considering 34-year-old Francesco Totti's offer to return to international football for Italy's World Cup challenge, why Lothar Matthaus played for Germany in 1998 aged 37, why Roger Milla played for Cameroon in 1990 and '94 aged 38 and 42 respectively, and why Maradona himself was in the Argentine squad in '94 aged 33, despite questionable fitness.
You take 23 players to a World Cup, so you can afford the luxury of a secret or not-so-secret weapon. And I believe Beckham should be England's.