The big bosses at FIFA and UEFA must have been spinning in their leather chairs when they got the news that the English Premier League has yet another foreign owner.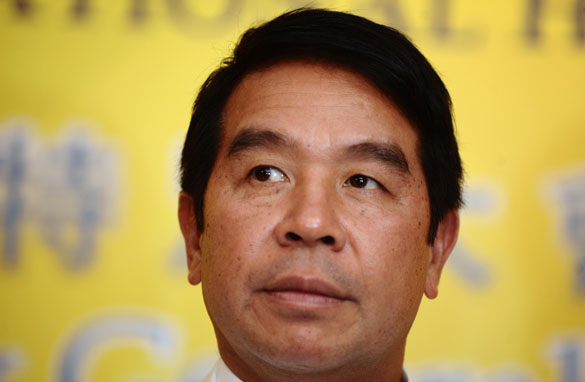 Carson Yeung, chairman of Grandtop International Holdings Limited and now the new owner of Birmingham City FC.
Messrs. Blatter and Platini, along with FIFA Vice-President, Jack Warner, who wants to place a financial cap on EPL teams, have been huge critics of the overseas impact on the Premier League, which is now like the United Nations on and off the field.
Carson Yeung's takeover of Birmingham City football club means half of the EPL's 20 teams are now foreign owned. And, with five of the managers hailing from overseas, and an average of 13 foreign players in each first team squad, the league is statistically no longer English. My question is – so what?
FIFA's boast is that football is a global game with a universal language, so is it not desirable that the world's blue riband league is blind to nationality?
Surely, no-one watching a football match in any country considers the origins of the players and coaches? They are just concerned about the result.
For example, my team, Arsenal, is predominantly non English, but when I watch the Gunners all I see is the red and white of their shirts, not the black, blue, maroon, green, and embossed gold of the players' passports. It is irrelevant!
Similarly, as long as the owner has the club's best interests at heart and does not meddle in team affairs, why should I care where he or she comes from?
His only obligation is to provide the cash to bankroll my team. And, the last time I checked, mega rich is mega rich regardless of whether your billions are in pounds, dollars, rubles, or riyals.
Of course, there are those who argue that the influx of foreigners to the English game has taken away its national character.
However, I don't think that's born out in practice, either in terms of the club's culture or, more importantly, in the way the teams perform.
I have lost count of the number of foreign opponents who have talked about the English way of playing, or the number of foreign imports who talk about adapting to the English style.
There is an English way – extremely high tempo, very physical, relentlessly competitive, and that is what gives the league its character.
So, in my book, there is no downside to the EPL's cosmopolitan look. In fact, as long as the integrity of those involved remains intact, it is the perfect model because it blurs the borders.
And, let's face it, if other leagues had been as progressive late in the last century, they would be reaping the same rewards as the English, and they would be loving it!