COPENHAGEN, Denmark - The bid cities are making their final presentations to members of the International Olympic Committee right now and you can feel the tension and the sense of anticipation in the air.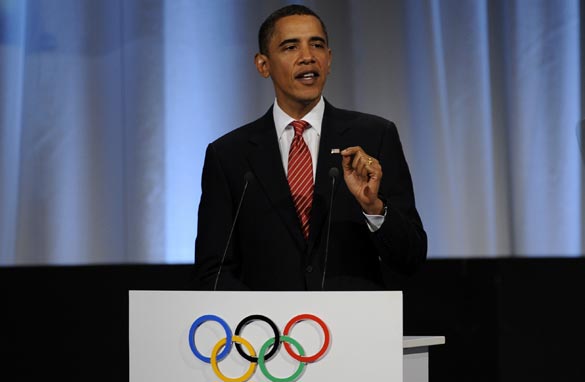 U.S. President Barack Obama is in Copenhagen to pitch for Chicago's bid. (AFP/GETTY IMAGES)
Around me, in the media hub of the Bella Center, are hundreds of journalists from all over the world, most of them from the countries which are vying for the Games. Every now and then I hear one of their reporters live on air. It really feels like I am in the eye of the storm here.
Everyone has been speculating about who is going to win. There are four really strong candidates and the chances are the host city for the 2016 Games will not be decided in the first round of voting. This, my friends, is going down to the wire.
Who will be the final two bids standing? Well, in my opinion, it will come down to a duel between Rio de Janeiro and Chicago. The Brazilian city could make history by becoming the first in South America to host the Games.
Sport in this region has developed a lot in the last decade, and the fact that the economic situation has also improved means that this continent is finally ready to receive the Olympics.
With Chicago, the IOC knows it has a safe bet. Three American cities have already hosted the Games, and the United States has the experience and know-how needed to organize a great event.
Furthermore, the money the IOC could make from TV deals with American networks will exceed any amount received from channels from other countries. And we all know money talks, right? So it will basically come down to whether the IOC members vote with their hearts of their heads.
The heart calls for Rio, the head for Chicago.
What about the others? Well Madrid has a shot. A realistic shot. Over 70 percent of Olympic venues are already in place or have started to be built in the Spanish capital so from an infrastructure standpoint, it is a very strong bid. Its main problem is the fact that the previous Games will also be held in Europe. if London were not organizing the 2012 Olympics, then Madrid could be the frontrunner.
As far as Tokyo is concerned, this is a long shot. The bid has lacked passion and the last media activities here in Copenhagen have reflected that. The fact the 2008 Games were in Beijing is also a disadvantage.
Its strength is the green and environmentally-friendly approach. The Japanese city has presented a plan for an Olympic stadium run entirely on solar energy.
So the scene is set. As the presentations are made, we follow them with great interest. Who will win? Watch this space...