Phil Mickelson has thrown down one big marker. Tiger Woods may have wrapped up the overall Fed- Ex Cup title despite failing to win the PGA's Tour Championship at East Lake Golf Club in Atlanta but it was his fellow-American who in my view richly deserves a fair few plaudits himself.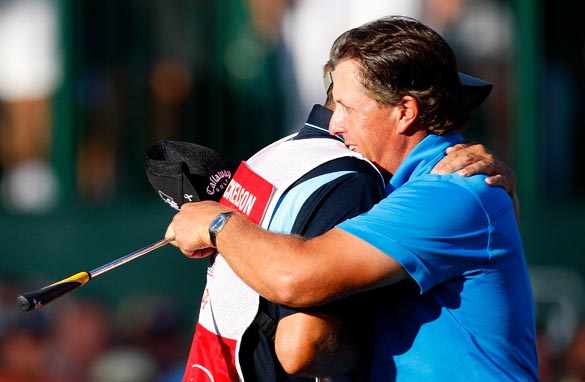 Phil Mickelson winning the PGA's Tour Championship at the weekend.
"Lefty", as he is known, shot a sizzling 65, five shots better than Woods' 70 to come from four shots back going into the final round to leave all trailing in his wake. And that includes Tiger himself who was left in second place three shots adrift.
Mickelson has always been a popular figure and the legions that follow his every move on the course will have been delighted with this showing. And like the man himself, they are already looking forward to next season with more than a keen sense of anticipation.
At his closing press conference, Tiger spoke of how he welcomes a strong challenge from a freshly invigorated Mickelson next season saying his compatriot has always had the talent to make life difficult for anyone. By the looks of it, Phil too is relishing getting going in 2010.
In my view, he must wish this season was just starting rather than ending. He turned to former player and two-time major winner Dave Stockton recently for a couple of days in San Diego, and together the pair worked on his putting techniques.
It clearly paid off with Mickelson crediting Stockton for his red-hot streak on the greens these past few days.
His last three rounds at East Lake saw him shoot 67, 66 and then that 65. Confidence soared with the left- hander boldly declaring he felt he could hold putts of almost any length! And judging by his performance Sunday, he wasn't far wrong!
Mickelson spoke of how much fun he had at the Tour Championship. And who would begrudge him that after the year he has had? Having to deal with the shock news both his wife and his mother were to undergo treatment for breast cancer treatment led to him pulling out of a number of events in 2009 so it was an obviously emotional Mickelson who checked out of Atlanta.
There is now over six months until the next major swings into action. That will be in April at the Masters and you can bet that Mickelson is alreading champing at the bit to get started. And if that putter is behaving itself, Tiger and co have plenty to be worried about!