"Big boys don't cry." That was the mantra we were raised on back in the days when the web was something you found in the dark corners of a garden shed.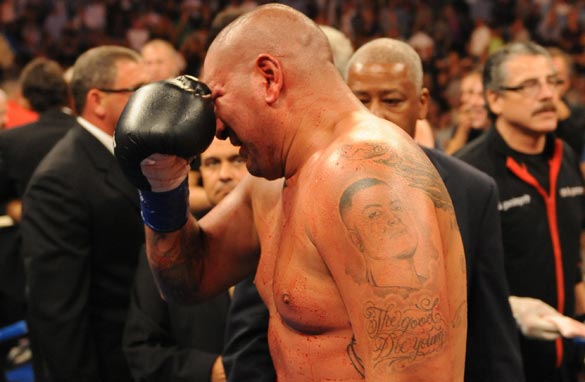 Cris Arreola breaks down in tears after losing to Vitali Klitschko in Los Angeles.
So when we bumped our heads, skinned our knees, or didn't win the sack race on school Sport's Day, we were expected to grin and bear it without the need for fluids.
We had good role models too, especially in sport, where our heroes were stoic, stiff upper lip, take it on the chin types, who, to quote Kipling, "met Triumph and Disaster, and treated those two impostors the same."
Well, times have changed and I've got kids of my own now. And there's absolutely no way the "big boys don't cry" mantra will fly, because everywhere you look someone is wailing.
The latest example came on Saturday night, when Mexican-American heavyweight boxer, Chris Arreola, a 6'3", 251 pound bruiser with a face only a mother could love, (and then only in dim light), bawled his eyes out after failing to relieve Vitali Klitschko of his WBC world title.
It didn't help that Klitschko is the very definition of stoic so that Arreola looked like a big cry- baby by comparison.
But all the same, watching the self-styled "Nightmare" from East L.A, dripping on the shoulder of his coach after his title-dream was convincingly shattered was uncomfortable to say the least.
But then I started to think about it, and realized that while he might have looked like a bit of a grizzle-guts to Generation-X'ers like me, the 28-year-old was only doing what comes naturally to those born in Generation Y.
Crying in public has become as common among role models as scandals and bling, and sports stars who blubber in front of the cameras are just complying with the social norm.
Look at the more recent examples. Roger Federer loses to Rafael Nadal in this year's Australian Open final, and weeps like he's just lost his favorite uncle. Granted, Roger is a serial sobber, but this was his finest hour and he took next to no flak for it.
And so it continued. NBA legend, Michael Jordan, marks his induction to the Basketball Hall of Fame, with a tear-stained acceptance speech.
Habitual retiree, Brett Favre, departs the NFL, for the first time, in a flood of tears. John Terry misses a penalty to lose Chelsea the 2008 UEFA Champions League final, cue the waterworks.
Now obviously, there've been notable incidents of crying in sport in the more distant past. 17-year-old Pele howling when he won the FIFA World Cup with Brazil in 1958; Paul Gascoigne welling up when he was yellow carded in the 1990 World Cup semis; Oliver McCall blubbering so hard during a heavyweight bout with Lennox Lewis in 1997 that the referee stopped the fight!
But these were exceptions to the rule. And, in the cases I've mentioned, easily explained away by youth or mental instability that became apparent later.
However, in today's society it seems you don't need to be young or bonkers to turn on the taps, you just have to be human. And I'm still not sure whether that's a good thing or bad thing.