It's called common sense, and Emmanuel Adebayor could and should have used it after scoring for Manchester City against his former club in Saturday's English Premier League clash.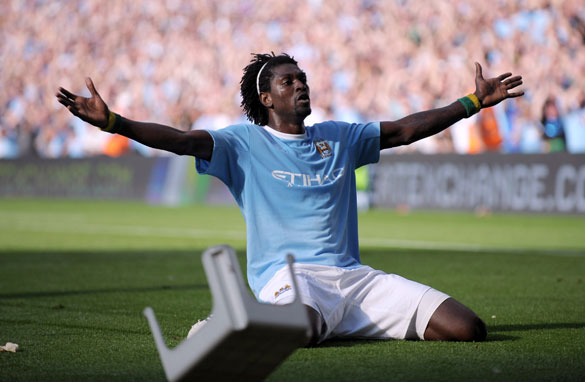 Adebayor's celebrations prompted Arsenal fans to pelt him with objects, including a plastic chair.
Let's face it. Adebayor was a little-known forward when he was signed by Arsene Wenger.
He enjoyed two and a half decent seasons at Monaco, where he scored once every four games, but it was with Arsenal that he became a star.
Does it mean that he needs to feel indebted to the Gunners or Wenger for the rest of his career? No, probably not.
However, it does mean that he should show his previous employers a little more respect.
Did he not think about what he was doing? I don't buy that argument. He had a good seven or eight seconds while he was running from one edge of the pitch to the other to consider his actions.
He could have stopped at the halfway line. He could have turned and headed to the Man City bench. But he didn't. Instead he ran to celebrate in front of the fans of his former club, rubbing salt into their wounds.
So that excuse won't fly in my book. This was an action which should be punished because the celebration could have ignited violence in the crowd.
It could have led a few of the Arsenal fans to jump the barrier and invade the field.
Believe me, I love goal celebrations. I have no problems with players taking their shirts off, or putting hats on, or jumping up and down like little children.
That shows passion, it shows they care. I personally believe players shouldn't be booked when they become bare-chested after scoring in a professional game.
However, this was over the top. The English Football Association has taken action and rightly so.
A five-match suspension may be harsh, but I would back a two-game ban. It would stop other players from behaving similarly, which could one day spark violence in the stands and on the pitch.