Stop this nonsense talk about Argentina not making the 2010 World Cup finals. Stop it right now.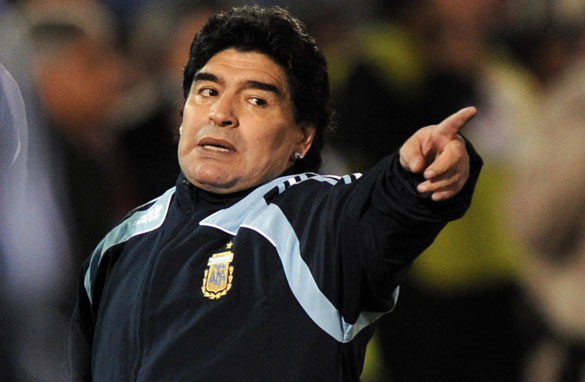 Maradona needs to work his magic to revive Argentina's World Cup qualifying hopes.
Can you remember 2002 World Cup qualification, when the shoe was on the other foot? Argentina were waltzing through qualification. They lost just once the entire campaign (away to Brazil), and ended up top of the group, 13 full points ahead of their biggest rivals.
Brazil, meantime, put together a string of performances reminiscent of today's Argentina: a loss at Ecuador, a home draw with lowly Peru. Their coach, Emerson Leao, was let go in favor of Luis Felipe Scolari. Scolari's Brazil would immediately lose at Uruguay, and talk of missing the World Cup continued.
Could it happen? Of course not - although it came down to the final day of matches!  Everyone knew they had the players, maybe the best in the world. And they would prove it eight months later - defeating Germany in the World Cup final. You may think I'm nuts, but Argentina will do the same in South Africa. I just can't figure out if it's with Maradona or not.
It's just that level of unpredictability that's hurt Maradona so far. He's like a king gone mad - he has the power to do anything he wants, regardless of rationale. He's lost four of six World Cup matches by giving debuts to players no-one's heard of, and finding room in his team for old guys it seems he himself could have played alongside - like Palermo and Veron.
Argentina have two matches remaining: at home to Peru and away to Uruguay. Thankfully, they are a month away. Plenty of time for even Maradona to realize the mistakes he's made.
I don't think he's that smart, but I do think he's magic. He's already lived a life defined by ridiculous decisions, with highs and lows most of us can't possibly imagine.
And look where he is now: coaching the two-time World Cup winners, with the second-best player on the planet, Lionel Messi.
It's not that he'll make his next team selection with wisdom, it's more that he can't possibly do worse. And this time, it's the very unpredictability that will lift his side, the magic that will work.
Argentina will win both matches and end on 28 points, securing fourth place in the table and an automatic berth in South Africa.
Telling Stat: Take a look at Argentina's goals for/goals against during 2002 campaign: 42 and 15. Right now it's 20 and 19.